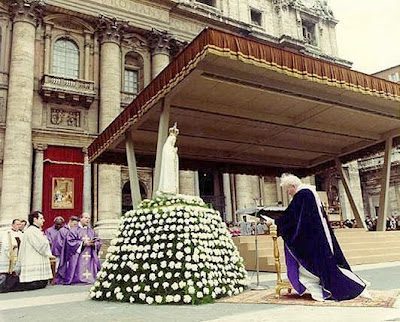 John Paul II's Consecration on March 25, 1984
I've been deeply
convinced of a connection between John Paul II, Fatima and Medjugorje for a long time. This
interview with Bishop Hnilica, SJ, sheds tremendous light on these
connections.
But first, a little about Bishop
Hnilica: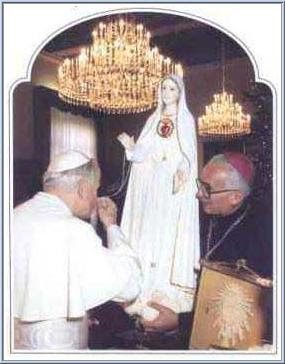 Bishop Hnilica giving Fatima Statue to Pope John Paul II
"…the
Slovak Bishop … worked for a long time to spread the message of Fatima,
particularly with regard to Russia. It will be remembered that it was Bishop
Hnilica who had taken all the Fatima documentation to John Paul II during his
convalescence in 1981 [following the attempt on his life on May 13th], and who
had presented him with the statue of the Immaculate Heart of Mary which the
Holy Father sent to a specially constructed church on the Polish-Soviet border.
It was during the time he spent in prison in Czechoslovakia that Bishop Hnilica
discovered the true meaning of Our Lady's request to consecrate Russia to her
Immaculate Heart as the only way to obtain peace in the world. As a result, he
has worked to spread the message of Fatima wherever he went." http://www.christendom-awake.org/pages/ttindalr/hnilica.htm
The six-year imprisonment of Bishop
Hnilica was a direct result of the intense anti-religious persecution of
atheistic Communism that both he and St. John Paul II knew firsthand. These
were some of the tremendous errors that would spread from Russia following the Bolshevik
Revolution, which was occurring in 1917 at the same time Our Lady of Fatima
came. This was, in part, what she warned us about and why she asked us to
consecrate, pray for and offer sacrifices in response to this great looming
danger.
For the atheistic communism that rose
from Russia would, in fact, be the cause of over 100 – 110
million lives
lost worldwide within the last century (some believe the death toll is
actually much higher).
Understanding this great loss of life that
we have endured, not only through Russia, but from the great wars of this past
century, help explain the great urgency of Our Mother's messages at Fatima –
and why men like John Paul II and Bishop Hnilica (as you will see) believed Our
Mother comes again to Medjugorje in order to fulfill the plan she began in
Fatima.
I am in the midst of writing other
articles that will demonstrate that these same satanic atheistic ideologies
that killed over a hundred of million people have also wrecked havoc on the
faith of countless more souls. The fact is an untold number of souls are in grave
danger of being lost today as they live lies permeated with the very same
anti-God, anti-family ideologies that Lenin proposed back in Russia in 1917. The
ongoing tragedy of the widespread destruction of faith and the family is
exemplified in the fact that young people are losing their faith by the
millions, (my pastor quoted a study that states 100,000 young people leave
Christian churches each month in America). This is occurring, in part, because
they have become victims of these agendas – indoctrinated (among many other
things) to believe that God, sin, heaven and hell no longer exist and that
Communism and Socialism are the answer to our nation's troubles. Understanding the
direness of the situation gives us insight into why God continues to send us His
Blessed Mother Mary every day – for He will stop at nothing to save His
children.
The graveness of our situation was understood
well by St. John Paul II, who said:
"We are now standing in the face of the
greatest historical confrontation humanity has ever experienced. I do not think
that the wide circle of the American Society, or the whole wide circle of the
Christian Community realize this fully. We are now facing the final
confrontation between the Church and the anti-church, between the gospel and
the anti-gospel, between Christ and the antichrist. The confrontation lies
within the plans of Divine Providence. It is, therefore, in God's Plan, and it
must be a trial which the Church must take up, and face courageously."
(1976 Eucharistic Congress in Philadelphia)
Understanding and foreseeing the grave
destruction that awaited mankind, God sent us Our Blessed Mother to Fatima,
asking us to pray for and Consecrate Russia to her Immaculate Heart on July 13,
1917.
This message, appropriately, followed
the terrifying vision of hell that was shown to the children. For communism's very
aim is the destruction of souls.
"

Frightened and asking for help we
looked up to Our Lady, who with sorrow and gentleness said to us:
"You have seen hell where the souls of poor sinners go.
To save them, God wants to establish in the world
devotion to my Immaculate Heart.
If you do what I tell you many souls will be saved and you will
have peace.
The war will end, but if you don't cease offending God,
a worse one will start in the papacy of Pope Pius XI.
But if people do not stop offending God,
another, even worse one will begin in the reign of Pius XI.
When you shall see a night illuminated by an
unknown light know that this is the great sign that God gives you
that He
is going to punish the world for its many crimes
by means of war, hunger, and persecution of the
Church and the
Holy Father.
To prevent it,
I shall come to ask for the
consecration of Russia to my Immaculate Heart
and the
Communion of reparation on the first Saturdays.
If my desires are obeyed,
Russia will be converted and there will be peace;
if not, its errors will spread all over the world, promoting
wars, persecutions of the Church: the good will be martyred, the Holy Father
will suffer much, several nations will be annihilated.
In the end my Immaculate Heart will triumph.
The Holy Father will consecrate Russia to me; it will be
converted, and a certain period of peace will be granted to the world."
These last sentences are integral to
understanding Fatima, Pope John Paul II and Bishop Hnilica – as well as
Medjugorje. For, as we shall see in this interview, these two great men of God
came to understand that Medjugorje is the extension and fulfillment of Fatima, as
she continues to ask for her desires to be obeyed. For more information
about St. John Paul II's belief in Medjugorje, I write about this extensively
here:
The above information is given as a
preface to this
interview, which was conducted by Marie Czernin for the German Catholic
monthly magazine PUR. It was published in December 2004:
Interview with Bishop Hnilica:
Marie Czernin:
Bishop Hnilica, you spent much time with the Pope John Paul II and you had many
private encounters with him – for example when you visited him at the Gemelli
Hospital shortly after the attempt on his life, May 13, 1981.
Did you ever speak with the Pope about
the events in Medjugorje?

Bishop Pavel Hnilica – I visited the Holy Father on 1984. We had lunch
at Castel Gandolfo, his summer residence, and I told him about the Consecration
of Russia to the Immaculate Heart of Mary, which I have done in the muscovite
Cathedral of the Assumption, on March 24 that same year, according to what Our
Lady had asked in Fatima.
John
Paul II's Consecration on March 25, 1984
When I told to the Holy Father about
these events, he was very touched and he said: "The Virgin Mary led you
there under her protection".
I responded:

"No, Holy Father, she was carrying me in her arms!"
After this, he asked me what I am
thinking about Medjugorje and if I have visited that place. I answered that the
official Vatican has not forbidden me to go, but that I was counselled not to
do it. The Pope looked at me and said:
"Go to Medjugorje incognito as you went
to Moscow. Who can forbid you this?" The Pope has not
given me an official authority to go there, but he found another solution. The
pope continued to speak, and he showed me a book about Medjugorje written by
René Laurentin. He started to read some chapters and he underlined that the
messages of Medjugorje are in close relationship with those of Fatima.
"Look, Medjugorje is a continuation, an
extension of Fatima. Our Lady is appearing in communist countries primarily
because of problems that originate in Russia", said the
Pope, who already took this as a mission of his pontificate.
This is why I immediately understood
the connection.
After the conversation with the Pope, I
visited Medjugorje incognito three or four times. But, the former bishop of
Mostar-Duvno, Pavao Zanic, wrote a letter to me asking me not to visit
Medjugorje any more; if I refuse, he will write to Pope himself, he said.
It seems that somebody informed him
about my visit.
However, there was no reason for me to
be afraid of the Holy Father.

– Did you have other occasions to speak with the Holy Father about Medjugorje?

Bishop Hnilica – Yes, the next time we spoke about Medjugorje was on August
1st, 1988.
A groups of doctors from Milan, who
were testing the children, came to visit the Pope in Castel Gandolfo. One of
the doctors mentioned that the bishop of Mostar was giving them hard times.
The Pope said: "As he is the bishop
of that place, you have to respect him."
Then he continued in a cordial tone: "But
he will have to answer before God if he has not acted in a right way".
After this, the Pope was pondering a
few moments, and then he said:
"Today's world has lost the sense of
supernatural, in other words, the sense of God. But many people rediscover this
feeling in Medjugorje through prayer, fasting and the sacraments."
For me personally, this
is the strongest explicit witness about Medjugorje. What has especially and
profoundly impressed me is the fact that the doctors, who were present,
declared "Non constat de supernaturalitate". The Pope, for his part, recognised
long time before that the supernatural events are really at work in Medjugorje.
Through many sources, the Pope came to the conviction that God can be
experienced in this place.

– Is it possible that many things that happen in Medjugorje can be invented?

Bishop Hnilica – Some years ago, there was a Youth meeting in
Marienfried, and I was invited. During the encounter, a journalist asked me:
"Bishop, don't you believe that, all
that is happening in Medjugorje, comes from the devil (Satan)?
"I am a Jesuit. Saint
Ignatius taught us how to discern spirits, but he also taught us that each
event can have 3 different sources: human, divine or diabolic."
At the end, he agreed with
me that what is happening in Medjugorje cannot be explained from a human point
of view – the fact that every year
normal young people – thousands of them – are attracted, they stream in order
to reconcile with God. Medjugorje has already been named "confessional of the
world", because, as a phenomenon, neither Lourdes nor Fatima managed to spur
that many crowds of people to go for confession.
What is happening during
confession? The priest is delivering the sinner from the devil.
Then I answered to the
journalist:
"Of course, Satan is
capable of many things, but he is not capable of one thing: Is it possible that
Satan spurs people to go for confession in order to be delivered precisely from
him?"
The journalists laughed, understanding
what I wanted to say.
Therefore, the only cause
remains in God.
Later on, I told to the Holy Father
about this conversation.

– How would you summarise the messages of Medjugorje?
What is distinguishing these messages
from those in Lourdes or Fatima?

Bishop Hnilica – In all three places, Our
Lady is inviting us to repentance, forgiveness and prayer. In this aspect of
the message, these three apparitions are similar. However, the difference in
Medjugorje is that the apparitions are lasting for 23 years now. The intensity
of the continuation of the supernatural is neither declining nor diminishing
during all these years, and the result is an even greater number of
intellectuals that are converted here.

– Some do not consider the events of Medjugorje as genuine because war broke
out in this region, which has for result that nations turned one against
another: isn't this a place of peace and not of conflict?

Bishop Hnilica –

In 1991 (10 years after the first message: "Peace,
peace and only peace"), when the war broke out in Croatia, I met the
Pope once again, and he asked me: "How can the apparitions of Medjugorje be
explained in the midst of the war in Bosnia?"
Really, the war was
terrible, so I answered:
"It seems that we are in
the same situation as in Fatima. If Russia had immediately been consecrated to
the Immaculate Heart of Mary, the Second World War and the spreading of the
Communism and atheism would have been avoided. Holy Father, as soon as, in
1984, you consecrated Russia to the Immaculate Heart of Mary, countless changes
took place in Russia, and the fall of the communism began.
In Medjugorje, Gospa
started with the warning that there would be a war if we were not converted.
Nobody took these messages seriously. Maybe, if the bishops of former
Yugoslavia had accepted these messages more seriously, it would not have gone
that far – but in any case, this would not have been a guaranty of the
definitive recognition of the official Church, because the apparitions are
still going on today."
Then the Pope told me: "Then, bishop
Hnilica is convinced that my action of consecration to the Immaculate Heart of
Mary was valid?"
I answered: "Certainly it was valid;
the only question is how many bishops really did the same consecration in union
with the Holy Father."

– Why is it so important that other bishops should have done the same in the
sense of what Holy Father has done?

Bishop Hnilica – It is expressing the
collegiality of the Church; in other words, the unity of the bishops with the
Pope gives to it a far deeper meaning. When Carol Woytila was elected a Pope in
1978, I congratulated him, but I immediately told him that something would be
missing to his pontificate if he does not consecrate Russia together with all
the bishops.
He told me then:
"If you manage to convince
bishops about this, I will do it tomorrow."
This is why, after the
consecration (25.03.1984), he asked me how many bishops concelebrated with
me.
As I could not answer him
to this question, the Pope said:
"Every bishop must prepare
his diocese, every priest his community, every father his family, because Gospa
said that also lay people must consecrate themselves to her Heart."
[emphases mine]
This interview coincides
with one of the seers of Fatima, Lucia dos Santos's own confirmation of the
connection between Fatima and Medjugorje:
"According
to Sister Lucia's own nephew, Father Salinho — a Salesian priest who lives in
Portugal — Sister Lucia continued receiving visions of the Virgin Mary long
after 1917, and some of these apparitions of the Virgin spoke to Sister Lucia
of the Madonna's continued work in Medjugorje. This report of Father Salinho's
was documented by the French author Sister Emmanuel Maillard in her book Medjugorje,
Triumph of the Heart! (Queenship, 2004), a revised edition of
Sister Emmanuel's earlier popular work, Medjugorje: the 90s. Pope John
Paul II met with Sister Emmanuel, was given a copy of her earlier book, and
therefore this knowledge – between Fatima's main visionary and the apparitions
in Medjugorje – may not have been foreign to the Vatican.
This
is a very important revelation, for one of the things that the Church looks
for, in evaluating apparitions, is coherence between Mary's apparitions. Fatima
and Medjugorje already have an immense amount in common; from the miracle of
the dancing sun that has been recorded at each location – once in Fatima and
numerous times in Medjugorje – to references to Mary's Immaculate Heart in the
devotion of both Fatima and Medjugorje, to the spiritual program of daily
prayer – especially the Rosary – Mass, fasting, and penance for the salvation
of sinners at each site; to incredibly similar depictions of visions of the
afterlife, particularly of hell, which were given to both the Fatima and
Medjugorje seers by their apparition. The coherence is evident. Now there is
even a report from a Catholic priest and a family member of Fatima's main
visionary, that Sister Lucia herself experienced apparitions of Our Lady
speaking about her work in Medjugorje; and, therefore, Sister Lucia reportedly
confirmed the apparitions of Medjugorje through her own private revelations of
the Virgin.
…It
is noteworthy, in stressing this connection, that Sister Lucia and Pope John
Paul II maintained a lifelong friendship. [One that began]… when the pope was
in Fatima on May 13, 1982, to thank the Virgin for saving his life from an
assassination attempt. This was the same day that Our Lady of Medjugorje told
the visionaries in Yugoslavia: "His enemies tried to kill him, but I have
protected him."
What
is interesting about Lucia's visionary experiences of the Madonna is the fact
that they did not end while she was a little girl. It is true that the last
apparition in the Cova da Iria fields nearby Fatima, resulting in the miracle
of the dancing sun that was witnessed by an estimated 70,000 people, did
conclude on October 13, 1917. However, even after the conclusion of these
public apparitions, Sister Lucia continued receiving private revelations of the
Virgin Mary as a nun in her cell. The same Virgin Mary that came to her as a
little girl in Fatima continued appearing to Lucia as a grown woman in the
convent. The apparitions lasted late into Lucia's life, even after the Madonna
reportedly began appearing in Medjugorje to six Croatian youths in 1981." (Written
by Daniel Klimek) https://www.medjugorjemiracles.com/2011/07/fatima-visionary-saw-and-confirmed-the-apparitions-of-our-lady-of-medjugorje/
The reported message from Our Lady of
Medjugorje on August 25, 1991 purports this same assertion: that she is the
same Blessed Mother who came first to Fatima, (and who has reportedly- to this
very day –been appearing daily in Medjugorje for nearly 40 years) asking for
the desires she requested in Fatima to be fulfilled. She said:
"Dear Children! Today also I invite you to prayer, now as
never before when my plan has begun to be realized.
Satan is strong and wants to sweep away my plans of peace and
joy and make you think that my Son is not strong in His decisions. Therefore, I
call all of you, dear children, to pray and fast still more firmly.
I invite you to
self-renunciation for nine days so that,
with your help, everything that I desire to realize through the
secrets
I began in Fatima, may be fulfilled.
I call you, dear children, to now grasp the importance of my
coming
and the seriousness of the situation.
I want to save all souls and present them to God.
Therefore, let us pray that everything I have begun be fully
realized.
Thank you for having responded to my call."

As reported in this interview above, Pope John Paul II believed that Mary's
coming to Medjugorje "is a continuation, an extension of Fatima." Saying, "Our Lady is appearing in communist
countries primarily because of problems that originate in Russia."
Pope
John Paul II was convinced that Mary saved him not only as an individual
from a trained assassin on May 13, 1981, (the feast of the first apparition in
Fatima), but that she has continued to come to save us collectively as well,
saying:
"Christ will conquer through her, because He wants the
Church's victories
now and in the future to be linked to her."
(John Paul II, Crossing the Threshold of Hope, p. 114)
Therefore, just as he was convinced
Mary guided the bullet to save his life, he also was convinced that Mary was
truly appearing in Medjugorje to save all of us from the continued destruction
waged against us by satan…
"I will never forget the love that radiated from the Holy Father. What I felt with him is similar to what I feel when I am with Our Lady, and looking into his eyes was just like looking into hers.
Later, a priest told me that the pope had been interested in Medjugorje from the very beginning, because right before our apparitions started, he had been praying for Our Lady to appear again on Earth.
"I cannot do it all alone, Mother," he prayed. "In Yugoslavia, Czechoslovakia, Poland and so many other communist countries, people cannot freely practice their faith. I need your help, dear Mother."
According to this priest, when the pope heard that Our Lady had appeared in a tiny village in a communist country, he immediately thought Medjugorje had to be an answer to his prayers."
I have one last item regarding the connection between Fatima and Medjugorje that I'd like to share. It is contained in an excerpt from Bishop Hnilica's 1997 open letter to Medjugorje prayer groups. It addresses the persecutions, lies and tribulations that Medjugorje has had to endure - likening them to the trials of the prophets of old and Fatima in more recent times:
"No one can deny, even if some try, that the spiritual Movement of the Queen of Peace is a living part of the Church, born of a spirit of prayer, not of human initiative. This river of light, life, peace and love for the Mother of God has generated prayer groups everywhere, inspired conversions, and continues to heal and comfort the hearts of all Christians who have found in the simplicity of the message of the Queen of Peace an authentic direction to rediscover the Gospel and return to the heart of the Church...
Unfortunately, since the message of Medjugorje, just like Fatima's, speaks of peace and conversion, the path of the Church is not an easy one, sharing the same fate of the prophets: many conversions but also much persecution; so much grace but also many fights; and like the prophets, only after much suffering and tribulations, men come to truly understand the importance of it. We know that voices have risen against Medjugorje, but this is not the first time that different opinions clash in the matter of supernatural intervention, inside the Church community and even among bishops. "The world is losing the supernatural, people are finding it in Medjugorje through prayer, fasting and the sacraments," said the Holy Father some years ago..."
I pray that this information and these remembrances and stories of St. John Paul II that express his love and faith in Medjugorje inspire and encourage us to ponder these events of Mary's coming to earth and the importance of living her messages.
For if the apparitions in Medjugorje are indeed true, as St. John Paul II and Bishop Hnilica believed, it cannot be without reason that Mary is being sent from heaven to us daily now for nearly forty years.
Thus, the importance of her coming cannot be overstated.
Therefore, let us live Mary messages of prayer and sacrifice, conversion, Eucharist and Confession.
May they help us to live unafraid and rooted deeply in Christ and His One, Holy, Catholic and Apostolic Church - confident, no matter the trials, that in the end, Mary's Immaculate Heart will Triumph.
To hasten this triumph, may we constantly pray that Jesus and Mary's plans be realized and fulfilled.
And, likewise, let us pray especially for our Holy Father, Pope Francis, for all priests in the Church and for our nation and families as we consecrate ourselves totally to Jesus through Mary,
so that God's may always be done in us. We ask this through Jesus Christ Our Lord. Amen.
Pope St. John Paul II and Bishop Hnilica, pray for us!
Lastly, this is a moving video that highlights the destruction Communism brought to the Church in Russia:
© Janet Moore. 2019. All Rights Reserved.
For those interested, here is the preface that was first included when the above interview was first pubished:
(PUR - Politik und Religion, a very successful and independent magazine led by two journalists, Bernhard and Martin Muller – twin brothers aged 43). This monthly is Catholic and is distributed to all the Bishops in Germany. Bernhard and Martin Muller are deeply devoted to Fatima, where, in fact, the idea for this magazine was born.
"As redactors, we had some doubts about making this interview, because the whole question around Medjugorje is a bit controversial. We have nevertheless decided to make it, because we want our readers to be aware of things that are spoken about in the world, and in this concrete case, in Germany. We are convinced that words spoken by Bishop Hnilica, transmitted integrally, will be interesting to our readers. These words speak for themselves. This article is not "a voice in favour of Medjugorje" raised by our magazine. On the contrary, it represents a decision to give to our readers concrete information about what people, including the Pope, are saying, or witness that somebody told, about the apparitions of Medjugorje and their fruits.
This article follows two other articles about Medjugorje published in October, in the magazine of the Italian Bishops Conference "Avvenire", which speak in a positive way about Medjugorje. One of them reports that the Italian UN forces based in Sarajevo went on pilgrimage to Medjugorje in order to thank the Queen of Peace for her protection during their peace mission in Bosnia. The other article, published on October 10, 2004, by Allessandro Fo, professor of Latin Literature at the University of Sienna, speaks about his conversion as a fruit of his pilgrimage to Medjugorje. The fact that the magazine of the Italian Bishops Conference gives much space to the events of Medjugorje is interesting for us.
This is why we sent Marie Czernin to ask Bishop Pavel Hnilica – an old friend of the Pope who lives in Rome since the fifties, after he escaped from Slovakia – if the Pope had ever given any commentary on Medjugorje, and if yes, in which way. (Editor of PUR magazine)