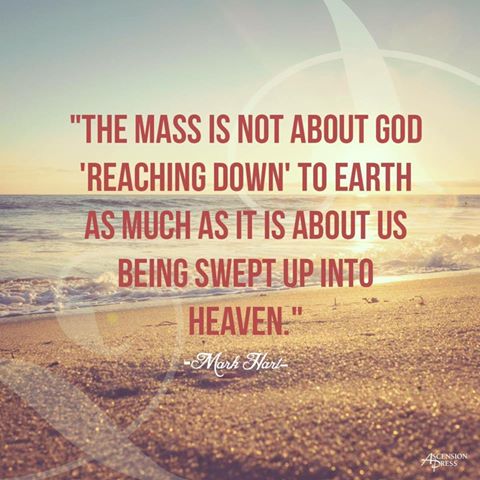 How thankful I am for the gift of Jesus in the Eucharist and for each of you!
On Thanksgiving Day at Mass, the LOVE God poured out upon me in Holy Communion was so tangible and real that waves of infinite love, grace, mercy, light and life just flooded upon me again and again! The experience was so tremendous that I couldn't stop crying. I cried and cried and cried and cried. I cried in thanksgiving — overwhelmed by how deeply God loves me and how intimately and tenderly He

cares for me!!!
I share this with you because I believe God wants to remind each of us of how deeply He loves us!!! 'God shows no partiality!' He knows and sees everything you are going through and holds you close to Himself in your every need. He is with you — breathing life into you, into your family, into your situation, whether you can see it outwardly or not! He has a great plan for you and He is with you always, so know that you are never alone! (How much I pray for those who don't have family or friends to spend time with during the Holidays!) Know that not only God, but Mary and all the angels and saints also surround and protect you and guide you.
Oh, Lord, open our eyes to see the power of our prayers and how you have ordained that they hold up the world through Your Grace. May we see a glimpse of Your Glory that hides so humbly before us in the Adoration Chapel, and how in each Communion and at our every invitation, You truly come to 'live and move and have your being' within us.
How thankful we are that EVERY DAY the greatest miracle takes place on the altars of Catholic Churches throughout the world as bread and wine become 'Your Body given up for me', and 'Your Blood poured out for me'!
No wonder the word Eucharist means Thanksgiving!
Happy Thanksgiving!