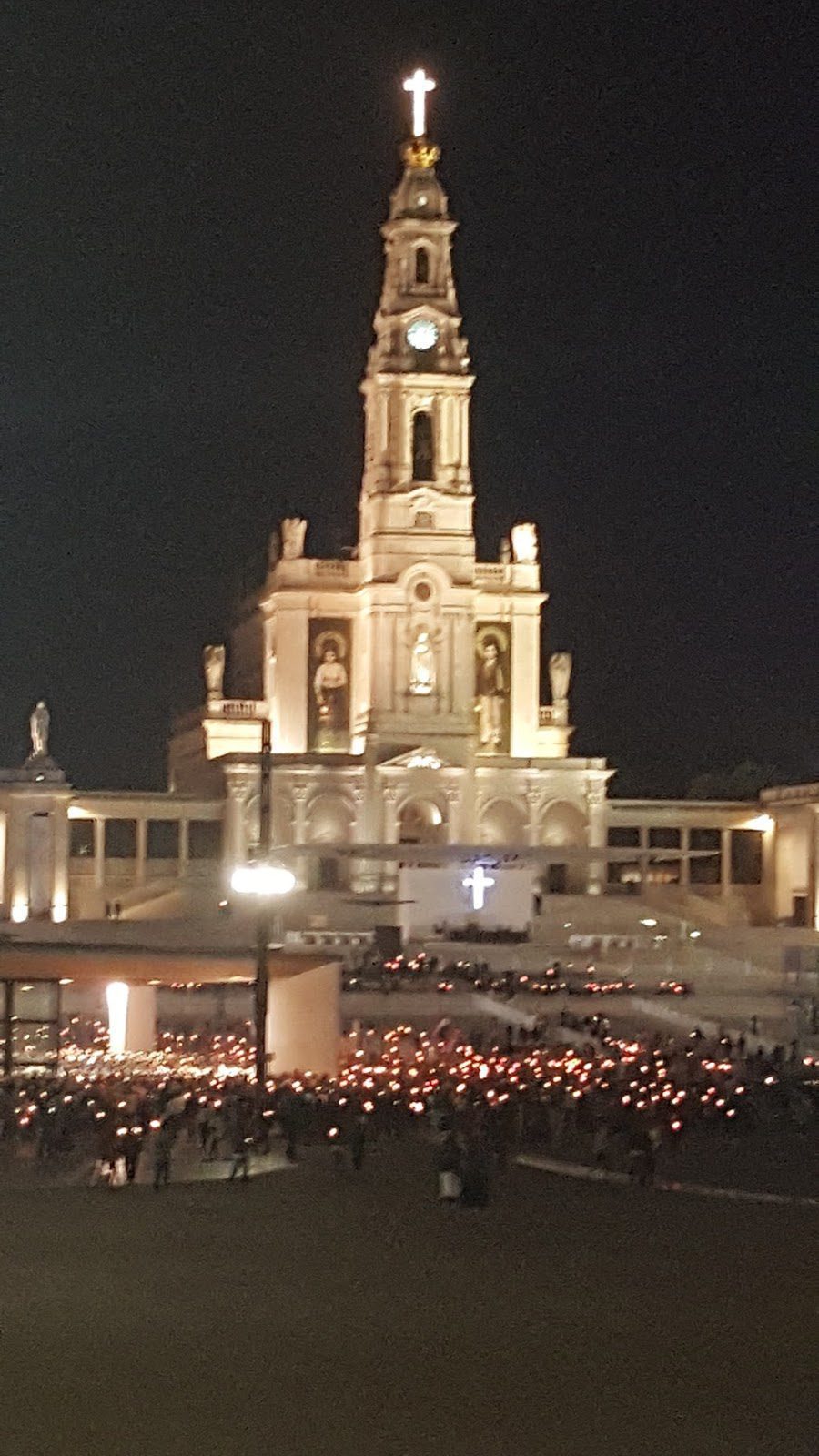 A View of the Nightly Candlelight Procession at the Shrine of Fatima, Portugal taken May 2017.
Why I Write about Fatima and Questions to Ponder for Today:
I was about 8 years old when I first heard about the events of Fatima.
Something in me was so deeply touched that I have never been the same again.
Since Jesus had ascended to the Father, I had never heard of anyone coming from heaven to help us!!
I was (and still am) amazed at the thought of Jesus sending His Mother to us to be Our Mother!
And wondered, how could this be? How amazing!
And yet, if she came down from heaven to speak to us, it has to be really important! How can we not listen to her?
How can we ignore her words when she has come to remind and warn us that Heaven and Hell are REAL and TRUE?!
And that people go to both places?!
In her messages, she has given us the answer to all the problems the world is wrestling with to this day — She tells us God's plan to achieve world peace, to the end of war, to the conversion of ourselves, our friends and family, and has given us guidelines in how we are to live!!!
And yet, the answers heaven gives us are

conditional. They are based on our response!
So, the million dollar question is:
Will we respond?
But first, what exactly happened?
An Amazing Thing Happened 100 Years Ago Today!
100 years ago today, on August
19th, 1917, in the midst of World War I, a beautiful lady from heaven appeared to three
shepherd children for the fourth time in four months. She asked them to renew their
sacrifices, saying:
"Pray, pray very
much, and make sacrifices for sinners; for many souls go to hell, because there
are none to sacrifice themselves and pray for them."
Every month since May, "a
beautiful lady from heaven" had come to the children and requested that they
return on the 13th of the following month to see and speak to her.
She promised she would visit them through October.
So, why are we celebrating something today, that took place on August 19th, instead of the 13th? What happened that the seers were unable to see the Lady as she promised?
It was because the local civil
administrator, Arturo Santos, kidnapped, threatened and imprisoned the three little
children on the 13th of August to prevent them from seeing the Lady
at their appointed meeting time. Lucia, Francisco and Jacinta were only 10, 9
and 7 respectively. Santos hated all the talk of heaven that children were inspiring; and he was determined to make
the children stop lying about seeing Our Lady and to stop the great influx of people who were coming in ever greater numbers to witness these heavenly events, so he held the little seers captive from
August 13-15th! (By the way, August 15th is the Feast of Mary being released
from this earth and taken up to heaven by God.)
The children, however,
would not recant their story: they had seen a beautiful lady from heaven and
they could not deny it.

Nor would they share
the secret that was revealed to them the month before — even when threatened
with death. The children were told if they didn't reveal the secret or deny the "Lady" they would be put into
a vat of boiling hot oil that was on the other side of the door. Each one went
willingly through the door, rather than to deny they had seen the Lady. (They lived because there really was no pot of boiling oil).
These littlest ones endured
three days apart from their families, suffering from the anger, insults, threats and abuse of this official set against them. They were even put in the same room with the criminals in the prison! (These
same convicts eventually became so inspired by the children that they began to pray the
rosary with them)!
Yet, despite all they
endured during this trial, the little ones revealed their deepest pain was not being able to see the
beautiful Lady and to fulfill her request to be at the appointed spot to meet
her. When the 13th came and went, they were heartbroken at fear of offending
the Lady by not showing up… and because they didn't know if they would ever see
her again.
While enduring this suffering, they often reminded themselves and each other: "Why should we fear? If
they kill us, we'll just go straight to heaven!" (They were given a glimpse of
heaven during the first appearance of the Lady in May, in which they received the promise that they would all go to heaven).
And they remembered their mission to offer
sacrifices to save souls. So they often said, as they were making some
sacrifice, the prayer our Lady taught them:
"O Jesus, it is for
love of You, for the conversion of sinners, and in reparation for the sins
committed against the Immaculate Heart of Mary."
The mission to pray and
sacrifice for sinners began to fill every part of their lives, especially
following what they had seen and heard during the previous apparition, which
occurred on July 13th.

That day, like
all the other appearances since Mary, Mary asked them to continue to "pray
the Rosary every day in honor of Our Lady of the Rosary in order to obtain
peace for the world and the end of the war, because only she can help you."
Then a three-part secret was
revealed to them that would only be shared in
part in 1941, when Lucia revealed that the children had seen hell and all
its horrors. The terrible sufferings and the images of damned souls, as well as
the words that Mary spoke to them never left the children. It would drive them
to make tremendous sacrifices – even unto death for the two youngest, (who died
heroically from illness not long after these appearances ended).
This is what the Lady said to
them after they witnessed the vision of hell. She said with great sadness:
"You have seen hell where
the souls of poor sinners go. To save them, God wishes to establish in the world
devotion to my Immaculate Heart. If what I say to you is done, many souls will
be saved and there will be peace. The war is going to end; but if
people do not cease offending God, a worse one will break out during the
pontificate of Pius XI. When you see a night illumined by an unknown light,
know that this is the great sign given you by God that he is about to punish
the world for its crimes, by means of war, famine, and persecutions of the Church
and of the Holy Father.
"To prevent this,
I shall come to ask
for the consecration of Russia to my Immaculate Heart, and the Communion of
Reparation on the First Saturdays.
If my requests are heeded,
Russia will be converted and there will be
peace; if not, she will spread her
errors throughout the world causing wars and persecutions of the Church. The
good will be martyred; the Holy Father will have much to suffer; various
nations will be annihilated.
In
the end, my Immaculate Heart will triumph. The Holy Father will consecrate
Russia to me and she will be converted, and a period of peace will be granted
to the world."
These words are so important to remember. Perhaps it is a good idea to read them again and again, until the plan of God penetrates our hearts, for amazingly, it is revealed that the salvation of many souls rests on our response.
After the children were released, they went back to their lives as shepherds, except for Jacinta, whose mother began to keep her at home because she
feared so much for her little girl's safety.
Yet, they still feared they would never see the Lady again. The children need not
have worried, the Lady did come again. But, it wasn't until the 19th
of August, while Lucia and Francisco were tending to their sheep not too far
from their homes, (at a property named Valinhos), that they sensed Our Lady was
coming. Francisco and Jactinta's older brother, John, was with them; so they sent him home
to bring back Jacinta. Our Lady waited for Jacinta to arrive before instructing
them, saying:
"Go again to the
Cova da Iria on the 13th and continue to say the Rosary every day."
She also continued to
promise that a great miracle would take place so that all would believe, however
she added that if they had not been kidnapped the miracle would have been even
greater.

She then spoke the
words that began this article:
"Pray, pray very
much, and make sacrifices for sinners; for many souls go to hell, because there
are none to sacrifice themselves and pray for them."
My daughter praying at Valinhos in May 2017, during our 100th Anniversary Pilgrimage
These words, this TRUTH, has echoed through my being since I first heard them.
And, I ask myself, i
f we truly hear these words, how can we fail to respond to them?
I
don't always feel like
praying the Rosary, but how do my feelings or experiences
compare when faced with the reality that
immortal souls go to hell for eternity, because there is no one to pray and sacrifice for them???
Each time I don't feel like praying the rosary, or I've
been so overwhelmed and busy that I haven't been able to pray the rosary unto
the wee hours of the morning, this reality comes to my mind: Souls are going to
hell because there is no one to pray and sacrifice for them.
If I take the time to ponder this, this thought expands my
heart enough for me to begin to pray.
Likewise with sufferings, when I'm
inconvenienced, sick or suffering, when trials come upon me or upon my family…
it has become a habit to think of the souls who can escape hell, if only I offer up this as a sacrifice
for them!
What a glorious exchange for things that we all must endure anyway! For
suffering comes to all of us in different forms, but how differently can we react to them! So, I strive to offer up all I
am and all I experience for love of Jesus, for the conversion of sinners and in
reparation for all the sins committed against the hearts of Jesus and Mary (who
love us so!!!)
This is ultimately what consecration is and what God so often
asks of us through Our Mother's repeated intercessions for us.
Each day, we have multiple opportunities to either say "yes" or "no" to God.
If we say "yes" repeatedly to God's calls, our heart truly does expand; and thus, God is able to use us, for we are open to his inspirations and we are
able to do more and more with, in and through Him.
Likewise, each time we say
"no" our heart becomes a little harder, which makes it harder to hear God's voice; until eventually, if we keep saying "no" our heart becomes so hard that it is increasingly difficult to say "yes" and
go beyond ourselves – and thus, we hinder the amazing experience of allowing God "to live and move and have His Being in us!"
Yet,
God, in His Most Gracious Mercy, gives us an infinite number of times to begin again, for our human frailty often fails us!
So, it is not about perfectly responding, but never giving up in responding.
If we continue to strive, He continually pours out His Grace and Life to help us!
During this time of such great darkness and deceit, when Satan is inviting violence and despair, I know God is calling
ALL WHO WILL LISTEN TO HIM,
to live the answers He has sent to us!!!!
Can you imagine how transformed our world would be if a countless multitude of little souls answer His Call to pray much and offer sacrifices to save others?? For He is able to:
"do infinitely more than all we ask or imagine, according to His power that is at work within us" Ephesians 3: 20.
Thank you for taking the time to read through to the end of this article.
I pray that God may bless you and all your loved ones today and always! Know that I pray for all who read my words and have prayed for you for many years (that is another story to tell at a later date).
May you accept God's gift of Mary and "Behold your Mother" as Jesus requested from the Cross; and may these words from heaven come alive for you:
"Pray, pray very much, and make sacrifices for sinners; for many souls go to hell, because there are none to sacrifice themselves and pray for them."
Please watch for further posts on Fatima to see what happened next… the Great Miracle… Why is it so important to Pray the Rosary?… Practice 1st Saturday Devotions? and Consecrate Ourselves to God through Mary? What is the 3rd Secret of Fatima? Also, why would God send Mary to us?


© Janet Moore 2017. All Rights Reserved.
For further Reading:
100th Anniversary Year of Fatima
"[There] appeared in
heaven a woman clothed with the sun". So the seer of Patmos tells us in
the Book of Revelation (12:1), adding that she was about to give birth to a
son. Then, in the Gospel, we hear Jesus say to his disciple, "Here is
your mother" (Jn 19:27). We have a Mother! "So beautiful a Lady",
as the seers of Fatima said to one another as they returned home on that
blessed day of 13 May a hundred years ago. That evening, Jacinta could
not restrain herself and told the secret to her mother: "Today I saw Our
Lady". They had seen the Mother of Heaven. "
All our recent Popes have
reiterated the urgency of Fatima's messages. St. John Paul II believed Our Lady of Fatima saved his life on May 13, 1981, and afterward proclaimed the message of Fatima extensively, saying:
"… the evangelical call to repentance and conversion, uttered in
the Mother's message, remains ever relevant…. It is still
more urgent.


…Mary's appeal is not for just
once. Her appeal must be taken up by generation after generation, in
accordance with the ever new "signs of the times". It must be
unceasingly returned to. It must ever be taken up anew."