Readings and Prayers for St. Louis-Marie de Montfort's Total
Consecration to Jesus through Mary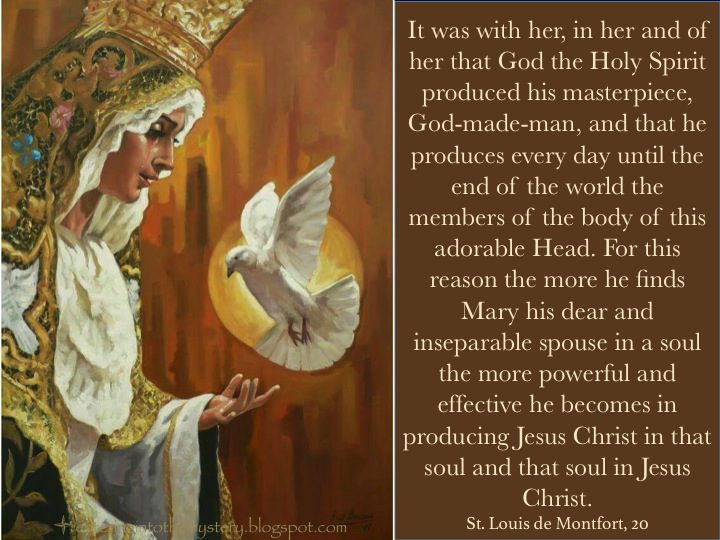 12 Days of Preparation renouncing the spirit of the world
Praying over and reading Jesus' Words
Learning about Mary's place in God's plan

Day 3 of 33:
Meditate on Scripture: St. Matthew 7: 1-14
Judging Others.
1
*
a
"Stop judging,
*
that you may not be judged.
b
2
For as you judge, so will you be judged, and the measure with
which you measure will be measured out to you.
c
3
Why do you notice the splinter in your brother's eye, but do not
perceive the wooden beam in your own eye?

4

How can you say to
your brother, 'Let me remove that splinter from your eye,' while the wooden
beam is in your eye?

5

You hypocrite,
*
remove the wooden beam
from your eye first; then you will see clearly to remove the splinter from your
brother's eye.
Pearls Before Swine.
6
"Do not give what is holy
to dogs,
*
or throw your pearls before swine, lest they trample them
underfoot, and turn and tear you to pieces.
d
The Answer to Prayers.
7
e
"Ask and it will be given to you; seek and you will find;
knock and the door will be opened to you.
f
8
For everyone who asks,
receives; and the one who seeks, finds; and to the one who knocks, the door
will be opened.
g
9
Which one of you would
hand his son a stone when he asks for a loaf of bread,
*
10
or a snake when he asks for a fish?

11

If you then, who
are wicked, know how to give good gifts to your children, how much more will
your heavenly Father give good things to those who ask him.
h
The Golden Rule.
12
*

"Do
to others whatever you would have them do to you.

i

This
is the law and the prophets.

The Narrow Gate.
Listen, Sing and Watch or Pray just the words depending on your
time constraints: Veni Creator, Ave Maris Stella, Magnificat, and Glory Be
Veni Creator sung in
Latin with English Translation
Veni
Creator
Come, O Creator
Spirit blest!
And in our souls take up thy rest;
Come with Thy grace and heavenly aid,
To fill the hearts which Thou hast made.
Great Paraclete! To Thee we cry,
O highest gift of God most high!
O font of life! O fire of love!
And sweet anointing from above.
Thou in Thy sevenfold gifts art known,
The finger of God's hand we own;
The promise of the Father, Thou!
Who dost the tongue with power endow.
Kindle our senses 'from above,
And make our hearts o'erflow with love;
With patience firm and virtue high
The weakness of our flesh supply.
Far from us drive the foe we dread,
And grant us Thy true peace instead;
So shall we not, with Thee for guide,
Turn from the path of life aside.
Oh, may Thy grace on us bestow
The Father and the Son to know,
And Thee through endless times confessed
Of both the eternal Spirit blest.
All glory while the ages run
Be to the Father and the Son
Who rose from death; the same to Thee,
O Holy Ghost, eternally. Amen.
Ave Maria Stella – Sung
in Latin with English Translation
Ave Maris
Stella
Hail, bright star
of ocean,
God's own Mother blest,
Ever sinless Virgin,
Gate of heavenly rest.
Taking that sweet
Ave
Which from Gabriel came,
Peace confirm within us,
Changing Eva's name.
Break the
captives' fetters,
Light on blindness pour,
All our ills expelling,
Every bliss implore.
Show thyself a
Mother;
May the Word Divine,
Born for us thy Infant,
Hear our prayers through thine.
Virgin all
excelling,
Mildest of the mild,
Freed from guilt, preserve us,
Pure and undefiled.
Keep our life all spotless,
Make our way secure,
Till we find in Jesus
Joy forevermore.
Through the highest heaven
To the Almighty Three,
Father, Son and Spirit,
One same glory be. Amen.
The
Prayer of Mary – The Magnificat
My soul
proclaims the greatness of the Lord,
my spirit rejoices in God my
Savior
for he has looked with favor
on his lowly servant.
From this day all generations
will call me blessed:
the Almighty has done great
things for me,
and holy is his Name.
He has mercy on those who
fear him
in every generation.
He has shown the strength of
his arm,
he has scattered the proud in
their conceit.
He has cast down the mighty
from their thrones,
and has lifted up the lowly.
He has filled the hungry with
good things,
and the rich he has sent away
empty.
He has come to the help of
his servant Israel
for he remembered his promise
of mercy,
the promise he made to our
fathers,
to Abraham and his children
forever.
(Lk 1:46-55)
Glory be
to the Father and to the Son and to the Holy Spirit
as it
was in the beginning, is now and ever shall be, world without end.
Amen.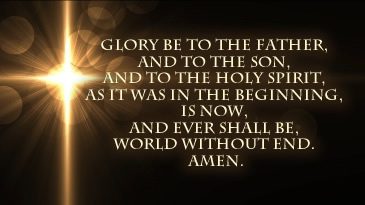 Examine your conscience, pray, practice renouncement of your own will;
mortification, purity of heart. This purity is the indispensable condition for
contemplating God in heaven, to see Him on earth and to know Him by the light
of faith. The first part of the preparation should be employed in casting off
the spirit of the world which is contrary to that of Jesus Christ.

The spirit of the world consists essentially in the denial of the supreme
dominion of God; a denial which is manifested in practice by sin and
disobedience; thus it is principally opposed to the spirit of Christ, which is
also that of Mary.

It manifests itself by the concupiscence of the flesh, by the concupiscence of
the eyes and by the pride of life, and by disobedience to God's laws and the
abuse of created things. Its works are: sin in all forms, then all else by
which the devil leads to sin; works which bring error and darkness to the mind,
and seduction and corruption to the will. Its pomps are the splendor and the
charms employed by the devil to render sin alluring in persons, places and
things.

Read:
St. Louis de Montfort's True Devotion to Mary paragraphs 17-24.

PART I: TRUE DEVOTION TO OUR LADY IN GENERAL
CHAPTER ONE
NECESSITY OF DEVOTION TO OUR LADY
Mary's part in the Incarnation
17.
God the Father imparted to Mary his fruitfulness as far as a
mere creature was capable of receiving it, to enable her to bring forth his Son
and all the members of his mystical body.
18.
God the Son came into her virginal womb as a new Adam into
his earthly paradise, to take his delight there and produce hidden wonders of
grace.
God-made-man
found freedom in imprisoning himself in her womb. He displayed power in
allowing himself to be borne by this young maiden. He found his glory and that
of his Father in hiding his splendours from all creatures here below and
revealing them only to Mary. He glorified his independence and his majesty in
depending upon this lovable virgin in his conception, his birth, his
presentation in the temple, and in the thirty years of his hidden life. Even at
his death she had to be present so that he might be united with her in one
sacrifice and be immolated with her consent to the eternal Father, just as
formerly Isaac was offered in sacrifice by Abraham when he accepted the will of
God. It was Mary who nursed him, fed him, cared for him, reared him, and sacrificed
him for us.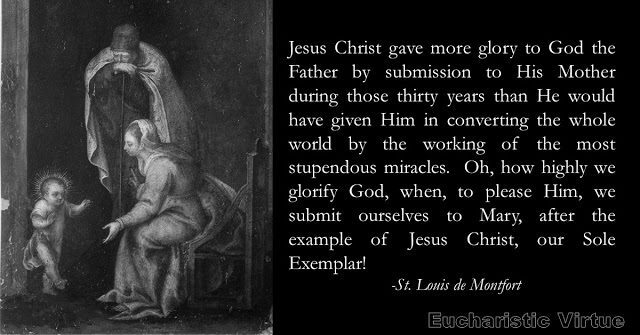 The Holy Spirit could not leave such wonderful and inconceivable dependence of
God unmentioned in the Gospel, though he concealed almost all the wonderful
things that Wisdom Incarnate did during his hidden life in order to bring home
to us its infinite value and glory. Jesus gave more glory to God his Father by
submitting to his Mother for thirty years than he would have given him had he
converted the whole world by working the greatest miracles. How highly then do
we glorify God when to please him we submit ourselves to Mary, taking Jesus as
our sole model.
19.
If we examine closely the remainder of the life of Jesus Christ,
we see that he chose to begin his miracles through Mary. It was by her word
that he sanctified Saint John the Baptist in the womb of his mother, Saint
Elizabeth; no sooner had Mary spoken than John was sanctified. This was his
first and greatest miracle of grace. At the wedding in Cana he changed water
into wine at her humble prayer, and this was his first miracle in the order of
nature. He began and continued his miracles through Mary and he will continue
them through her until the end of time.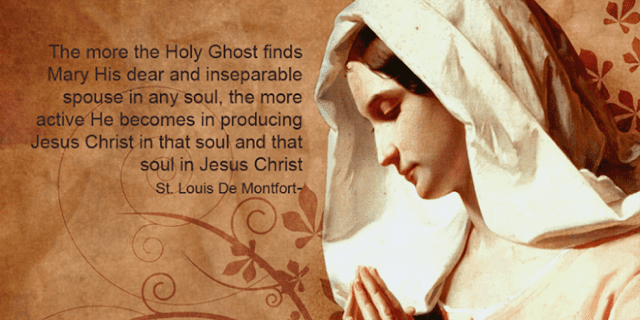 20. God the Holy Spirit, who does not produce any divine person, became
fruitful through Mary whom he espoused. It was with her, in her and of her that
he produced his masterpiece, God-made-man, and that he produces every day until
the end of the world the members of the body of this adorable Head. For this
reason the more he finds Mary his dear and inseparable spouse in a soul the
more powerful and effective he becomes in producing Jesus Christ in that soul
and that soul in Jesus Christ.
21.
This does not mean that the Blessed Virgin confers on the
Holy Spirit a fruitfulness which he does not already possess. Being God, he has
the ability to produce just like the Father and the Son, although he does not
use this power and so does not produce another divine person. But it does mean
that the Holy Spirit chose to make use of our Blessed Lady, although he had no
absolute need of her, in order to become actively fruitful in producing Jesus
Christ and his members in her and by her. This is a mystery of grace unknown
even to many of the most learned and spiritual of Christians.

2. Mary's part in the sanctification of souls
22.
The plan adopted by the three persons of the Blessed Trinity
in the Incarnation, the first coming of Jesus Christ, is adhered to each day in
an invisible manner throughout the Church and they will pursue it to the end of
time until the last coming of Jesus Christ.
23.
God the Father gathered all the waters together and called
them the seas (maria). He gathered all his graces together and called them Mary
(Maria). The great God has a treasury or storehouse full of riches in which he
has enclosed all that is beautiful, resplendent, rare, and precious, even his
own Son. This immense treasury is none other than Mary whom the saints call the
"treasury of the Lord". From her fullness all men are made rich.
24.
God the Son imparted to his mother all that he gained by his
life and death, namely, his infinite merits and his eminent virtues. He made
her the treasurer of all his Father had given him as heritage. Through her he
applies his merits to his members and through her he transmits his virtues and
distributes his graces. She is his mystical channel, his aqueduct, through
which he causes his mercies to flow gently and abundantly.
"Come, Holy Spirit,
living in Mary, Give me the grace to reject Satan and follow Christ more
closely".
© Janet Moore 2018. All
Rights Reserved.