Readings and Prayers for St. Louis-Marie de Montfort's

Total Consecration to Jesus through Mary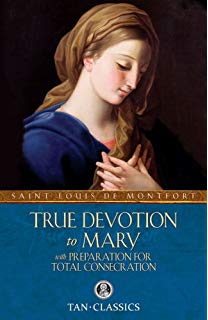 12 Days
of Preparation renouncing the spirit of the world
Praying
over and reading Jesus' Words
Praying
with the Heart
Examining
our conscience
Learning
about Mary's place in God's plan
Day 2 of 33:
Meditate on
Scripture:
St. Matthew: Chapter 5: 48, 6: 1-15
4
So be perfect,
*
just as your heavenly Father is perfect.
d
"[But] take care not to perform righteous
deeds in order that people may see them; otherwise, you will have no
recompense from your heavenly Father.

2

When you give alms,
do not blow a trumpet before you, as the hypocrites
*
do in the
synagogues and in the streets to win the praise of others. Amen, I say to you,
they have received their reward.
b
3
But when you give alms, do not let your left hand know what your
right is doing,

4

so that your almsgiving may be
secret. And your Father who sees in secret will repay you.
Teaching About Prayer.
5
"When you pray, do not be
like the hypocrites, who love to stand and pray in the synagogues and on street
corners so that others may see them. Amen, I say to you, they have received
their reward.

6

But when you pray, go to your inner room,
close the door, and pray to your Father in secret. And your Father who sees in
secret will repay you.7

*

In praying, do not babble like the pagans, who think that
they will be heard because of their many words.

*

8

Do not be like them. Your Father knows what you need
before you ask him.
The Lord's Prayer.
9
*
"This is how you are to
pray:
c
11
*
e
Give us today our
daily bread;
12
and forgive us our debts,
*
as we forgive our debtors;
f
13
and do not subject us to the final test,
*
but deliver us from the evil one.
g
14
*
If you forgive others
their transgressions, your heavenly Father will forgive you.
h
15
But if you do not forgive
others, neither will your Father forgive your transgressions.
i

Listen, Sing and Watch or Pray just the words depending on your time
constraints: Veni Creator, Ave Maris Stella, Magnificat, and Glory Be
Veni Creator sung in Latin with English Translation
Come, O Creator Spirit blest!
And in our souls take up thy rest;
Come with Thy grace and heavenly aid,
To fill the hearts which Thou hast made.
Great Paraclete! To Thee we cry,
O highest gift of God most high!
O font of life! O fire of love!
And sweet anointing from above.
Thou in Thy sevenfold gifts art known,
The finger of God's hand we own;
The promise of the Father, Thou!
Who dost the tongue with power endow.
Kindle our senses 'from above,
And make our hearts o'erflow with love;
With patience firm and virtue high
The weakness of our flesh supply.
Far from us drive the foe we dread,
And grant us Thy true peace instead;
So shall we not, with Thee for guide,
Turn from the path of life aside.
Oh, may Thy grace on us bestow
The Father and the Son to know,
And Thee through endless times confessed
Of both the eternal Spirit blest.
All glory while the ages run
Be to the Father and the Son
Who rose from death; the same to Thee,
O Holy Ghost, eternally. Amen.
Ave Maria Stella – Sung in Latin with English Translation
Hail, bright star of ocean,
God's own Mother blest,
Ever sinless Virgin,
Gate of heavenly rest.
Taking that sweet Ave
Which from Gabriel came,
Peace confirm within us,
Changing Eva's name.
Break the captives' fetters,
Light on blindness pour,
All our ills expelling,
Every bliss implore.
Show thyself a Mother;
May the Word Divine,
Born for us thy Infant,
Hear our prayers through thine.
Virgin all excelling,
Mildest of the mild,
Freed from guilt, preserve us,
Pure and undefiled.
Keep our life all spotless,
Make our way secure,
Till we find in Jesus
Joy forevermore.
Through the highest heaven
To the Almighty Three,
Father, Son and Spirit,
One same glory be. Amen.
The Prayer of Mary – The Magnificat
My soul proclaims the greatness of the Lord,
my spirit rejoices in God my Savior
for he has looked with favor on his lowly servant.
From this day all generations will call me blessed:
the Almighty has done great things for me,
and holy is his Name.
He has mercy on those who fear him
in every generation.
He has shown the strength of his arm,
he has scattered the proud in their conceit.
He has cast down the mighty from their thrones,
and has lifted up the lowly.
He has filled the hungry with good things,
and the rich he has sent away empty.
He has come to the help of his servant Israel
for he remembered his promise of mercy,
the promise he made to our fathers,
to Abraham and his children forever.
(Lk 1:46-55)
Glory be to the Father and to the Son and to the Holy Spirit
as it was in the beginning, is now and ever shall be, world without end. Amen.
Examine your conscience
, pray, practice renouncement of your
own will; mortification, purity of heart. This purity is the indispensable
condition for contemplating God in heaven, to see Him on earth and to know Him
by the light of faith. The first part of the preparation should be employed in
casting off the spirit of the world which is contrary to that of Jesus
Christ.

The spirit of the world consists essentially in the denial of the supreme
dominion of God; a denial which is manifested in practice by sin and
disobedience; thus it is principally opposed to the spirit of Christ, which is
also that of Mary.
It manifests itself by the concupiscence of the flesh, by the
concupiscence of the eyes and by the pride of life, and by disobedience to
God's laws and the abuse of created things. Its works are: sin in all forms,
then all else by which the devil leads to sin; works which bring error and
darkness to the mind, and seduction and corruption to the will. Its pomps are
the splendor and the charms employed by the devil to render sin alluring in
persons, places and things.
Read:
St. Louis de
Montfort's True Devotion to Mary
paragraphs 9-16.
TREATISE ON TRUE DEVOTION TO THE BLESSED VIRGIN INTRODUCTION OF
SAINT LOUIS MARIE
9. The whole world is filled
with her glory, and this is especially true of Christian peoples, who have
chosen her as guardian and protectress of kingdoms, provinces, dioceses, and
towns. Many cathedrals are consecrated to God in her name. There is no church
without an altar dedicated to her, no country or region without at least one of
her miraculous images where all kinds of afflictions are cured and all sorts of
benefits received. Many are the confraternities and associations honouring her
as patron; many are the orders under her name and protection; many are the
members of sodalities and religious of all congregations who voice her praises
and make known her compassion. There is not a child who does not praise her by
lisping a Hail Mary. There is scarcely a sinner, however hardened, who does not
possess some spark of confidence in her. The very devils in hell, while fearing
her, show her respect.
10. And yet in truth we must still say with the saints: De Maria numquam
satis : We have still not praised, exalted, honoured, loved and served Mary
adequately. She is worthy of even more praise, respect, love and service.
11. Moreover, we should repeat after the Holy Spirit, "All the
glory of the king's daughter is within", meaning that all the external
glory which heaven and earth vie with each other to give her is nothing
compared to what she has received interiorly from her Creator, namely, a glory
unknown to insignificant creatures like us, who cannot penetrate into the
secrets of the king.
12. Finally, we must say in the words of the apostle Paul, "Eye has
not seen, nor ear heard, nor has the heart of man understood" the beauty,
the grandeur, the excellence of Mary, who is indeed a miracle of miracles of
grace, nature and glory. "If you wish to understand the Mother," says
a saint, "then understand the Son. She is a worthy Mother of God."
Hic taceat omnis lingua : Here let every tongue be silent.
13. My heart has dictated with special joy all that I have written to
show that Mary has been unknown up till now, and that that is one of the
reasons why Jesus Christ is not known as he should be.
If then, as is certain, the knowledge and the kingdom of Jesus Christ must come
into the world, it can only be as a necessary consequence of the knowledge and
reign of Mary. She who first gave him to the world will establish his kingdom
in the world.



PART I: TRUE DEVOTION TO OUR LADY IN GENERAL

CHAPTER ONE
NECESSITY OF DEVOTION TO OUR LADY

Mary's part in the Incarnation

14. With the whole Church I acknowledge that Mary, being a mere creature fashioned by the hands of
God is, compared to his infinite majesty, less than an atom, or rather is simply nothing, since he alone can
say, "I am he who is". Consequently, this great Lord, who is ever independent and self-sufficient, never had
and does not now have any absolute need of the Blessed Virgin for the accomplishment of his will and the
manifestation of his glory. To do all things he has only to will them.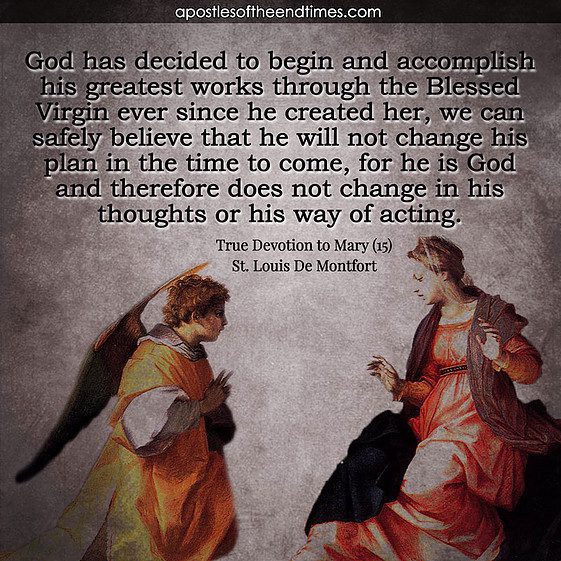 15. However, I declare that, considering things as they are, because God has decided to begin and
accomplish his greatest works through the Blessed Virgin ever since he created her, we can safely believe
that he will not change his plan in the time to come, for he is God and therefore does not change in his
thoughts or his way of acting.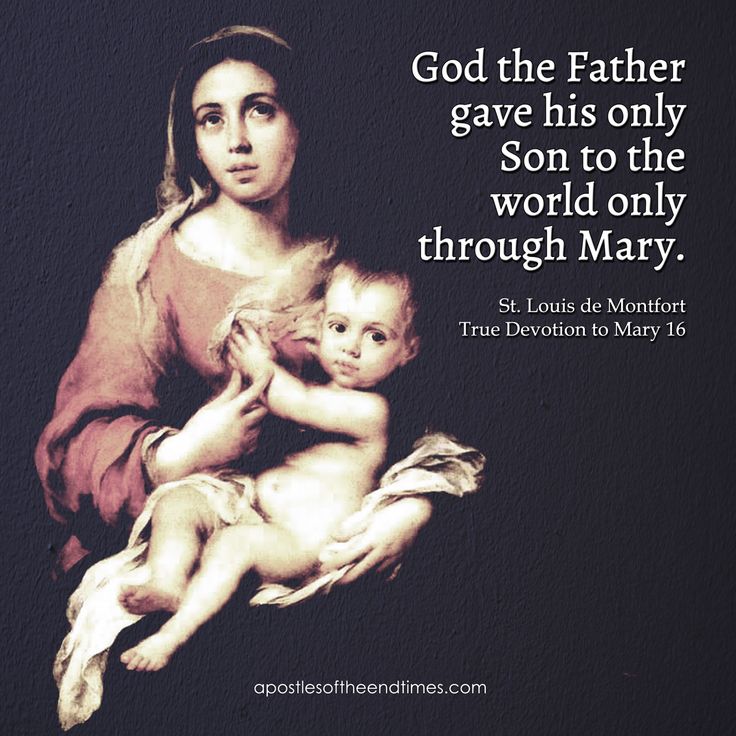 16.
God the Father gave his only Son to the world only through Mary.
Whatever desires the patriarchs may have cherished, whatever entreaties the
prophets and saints of the Old Law may have had for 4,000 years to obtain
that treasure, it was Mary alone who merited it and found grace before God by
the power of her prayers and the perfection of her virtues. "The world
being unworthy," said Saint Augustine, "to receive the Son of God
directly from the hands of the Father, he gave his Son to Mary for the world to
receive him from her."
The Son of God became man for our salvation but only in Mary and
through Mary.
God the Holy Spirit formed Jesus Christ in Mary but only after
having asked her consent through one of the chief ministers of his court.
"Come, Holy Spirit, living in Mary, Prepare me
to give myself fully to living out this true and solid devotion."
© Janet Moore 2018. All
Rights Reserved