Each year, for the last 29 years, there has been an International Youth Festival in Medjugorje. This year's theme was "Living on the Word of God" and it was
historic because for the first time in Medjugorje's history
the Pope's representative, Archbishop Henryk Hoser, in his role as the Apostolic Visitor from the Holy See officiated at the festival.
Along with Archbishop Hoser, the Apostolic Nuncio
for Bosnia Hercegovina and the Franciscan Provincial of the Herezegovian Province concelebrated the last evening Mass with 485 priests.

Each day h

undreds of priests heard confessions and concelebrated Mass every evening, with the
largest number of priests concelebrating being 570 priests on Friday, 473 priests on Wednesday and 548 priests on Saturday.
Imagine the magnitude and glory of such a
sight! Imagine being in such a place of grace!
"The festival was simultaneously translated into 17 languages, and many radio stations, web sites and TV stations broadcasted and live streamed the whole event. Besides radio Mir Medjugorje the whole day and night programme was also taken by Radio Maria from 8 countries, Laudato TV (Croatia), Espanol TV, Kit TV, Kathtube and many more. There were 1076600 live streaming viewers of the programme on the last evening."
"Dear young friends in the Lord! Again, you gathered in such a great number for the Youth Festival in Medjugorje. Again, as in the previous years, I wish to send you my warmest greetings, but this year we have a special opportunity to be especially grateful! Each of us has reasons to thank Holy Father for his kind care for Medjugorje!
The instalment of the Apostolic Visitor is the sign of a great respect and recognition. This is the act through which the Church officially recognised the good fruits of Medjugorje. Archbishop Hoser is now the official representative of the Holy Father for this parish and pilgrims of Medjugorje.
For you, dear friends, who have despite the heat came to Our Lady to pray, confess and celebrate here, this sign of the Holy Father is the great encouragement, for us to gaze into Mary and to follow her words: "Do as Jesus tells you to do!" With my great gratitude, I am sending you my greetings and I ask you to pray in a special way for our Holy Father Francis! Please pray for me too, as I pray for you all that you my have specially blessed days with Our Lady!

Yours, P. Christoph Cardinal, Schönborn "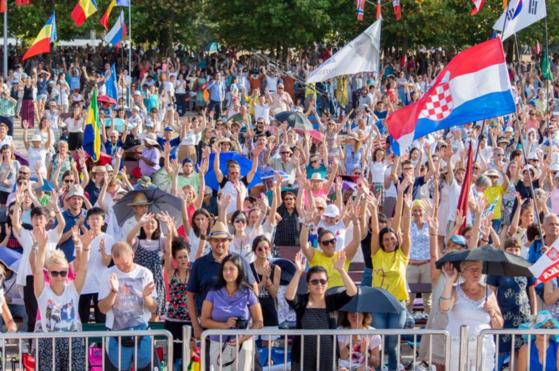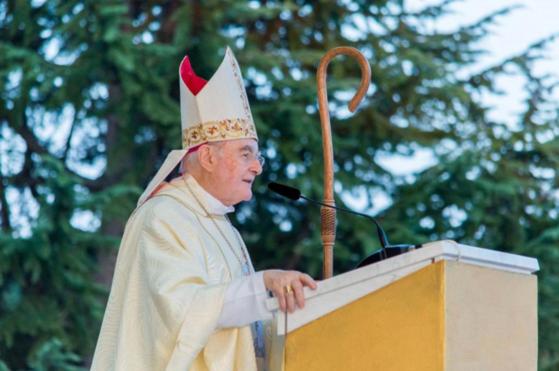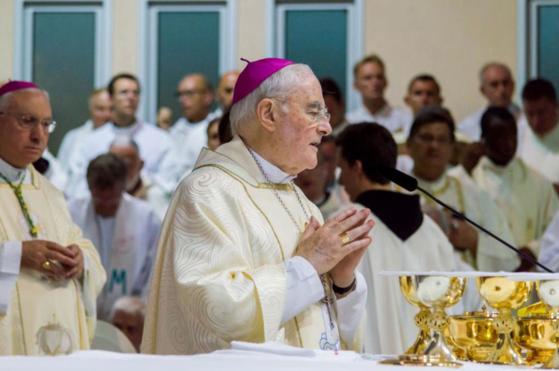 Archbishop Hoser's homily for the final evening Mass on August 5th is available online here, in which he concluded by saying:
We, Christians, we have the responsibility of discovering our Teacher, Jesus Christ, who, after one of his disciples asks him, "How can we know the way?"
He says: "I am the way, the truth and the life."
The answer is concise, but it contains everything. So, I hope that during this Festival you were able to sense at least the beginning of the journey you are to take.
The person of Jesus is truly fascinating, only if we get to know Him.
Now, hear this conversation:
"

And the two disciples heard what He said and followed Jesus.
Jesus turned round, saw them following and said, 'What do you want?'
They answered, 'Rabbi-which means Teacher- where do you live?'
He replied, 'Come and see', so they went and saw where he lived, and stayed with him that day. It was about the tenth hour

."
Today, at 7 p.m., Jesus came to us and asked us the same question:
What do you look for? Who do you look for, and why?
Jesus is the one safe Teacher. Do not be late to enrol in His school. In the same school, you will find one other safe Teacher – Mary, the Mother of God, Mary, the Educator and the Queen of Peace! One such school is worth more than the finest world universities!
Mary does not get tired of directing us to her Son: "Do whatever He tells you to do!"
This is the answer to the initial question: "What can we do to accomplish the works of God?"

Amen.
Each year, it is so deeply moving to see such a vibrant example of the living Body of Christ, with t
ens of thousands worshipping and praying together in adoration, at the Holy Sacrifice of the Mass and in the humility of confessing of sins.
This year youth from 72 countries gathered together to worship Christ, seeking Jesus Who is "The Way, the Truth and the Life!". He is the One, True God Who binds up the wounds of sin and division (even when it happens within his own Church), so much so that these young people, some of whom live in countries that are at war with one another outside of this grace-filled space, are united here in love and solidarity in answer to their Mother's call. For the Queen of Peace never ceases to guide us by reminding us to "Do whatever He tells you to do".
What a vibrant example of God's kingdom coming to earth as it is in Heaven!
What an incredible sign of God's will being done!
No matter the human frailty and sinfulness that is always present in Christ's Body, the Church — this yearly gathering is a sign of the undying, dynamic faith and vitality of the ONE, HOLY, CATHOLIC and APOSTOLIC CHURCH that Jesus founded upon Peter two

millennium ago. No matter how terrible the storms it weathers, the Church will endure and it will endure gloriously for Christ is our Head Who continually He feeds us with His very Life (each day in the Eucharist if we desire it) and because He promised that the gates of hell will not prevail against her!
These young people gathering together in such numbers from all parts of the world are a sign of great hope!
They are a sign that our young people still see Christ as the fulfillment of all our desires, Who is able to even transform sin and death!
For even in this anti-God culture, youth are still answering the perennial call of Our Lord by the thousands (if not millions), and in so doing, they will be the instrument through which God will transform the world, in answer to Pope St. John Paul II's call to the youth at previous World Youth Days:
which echo the words of
St. Catherine of Sienna:
"Be who God meant you to be and
you will set the world on fire!"
May it be so for each of us! Amen. Alleluia.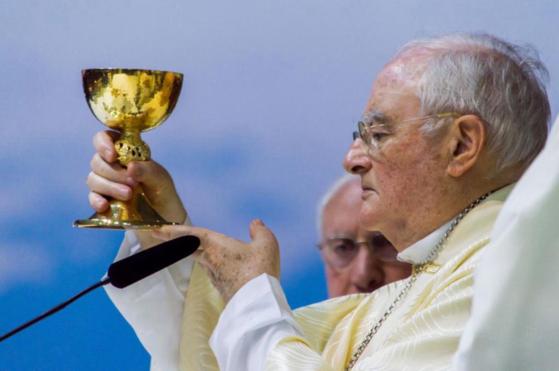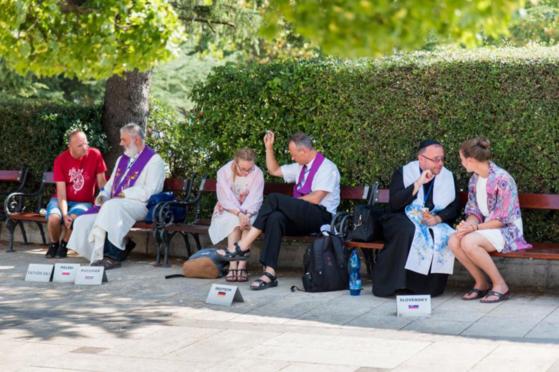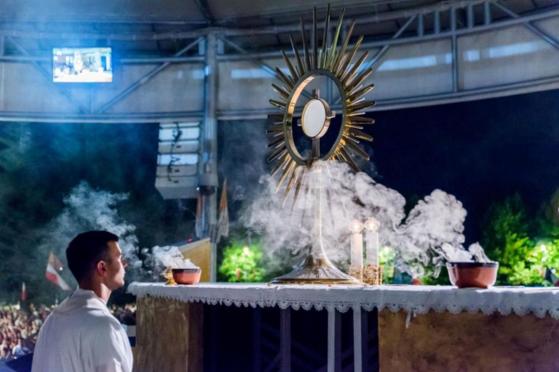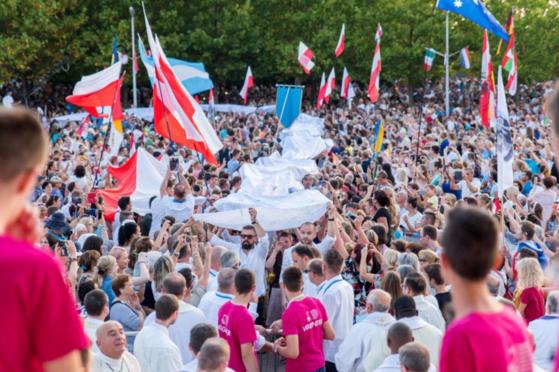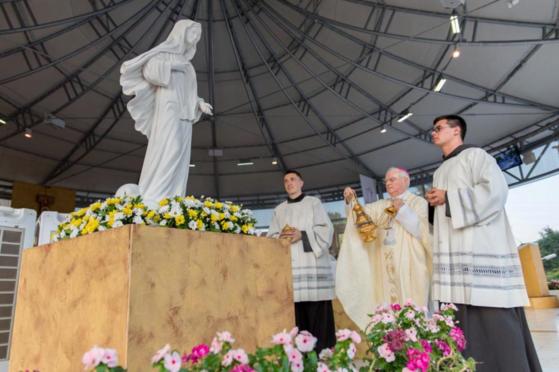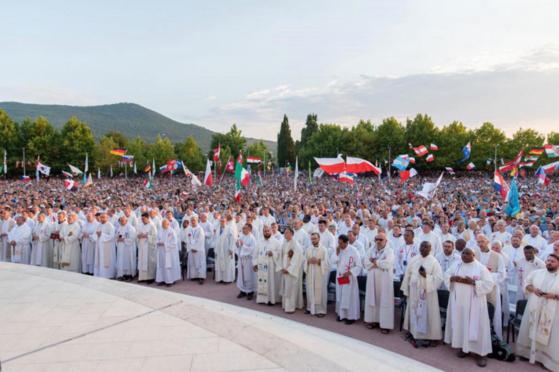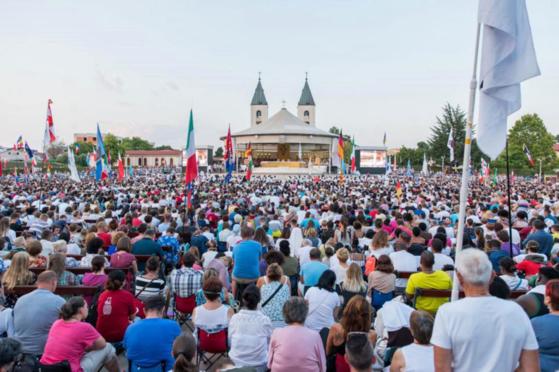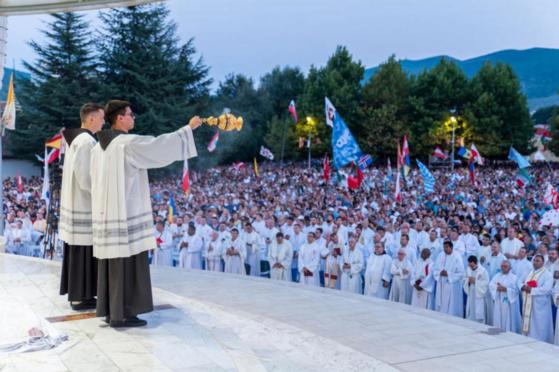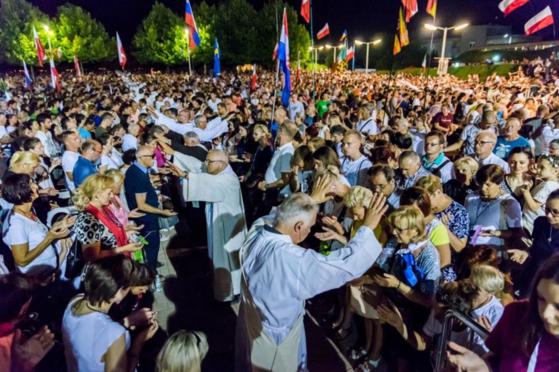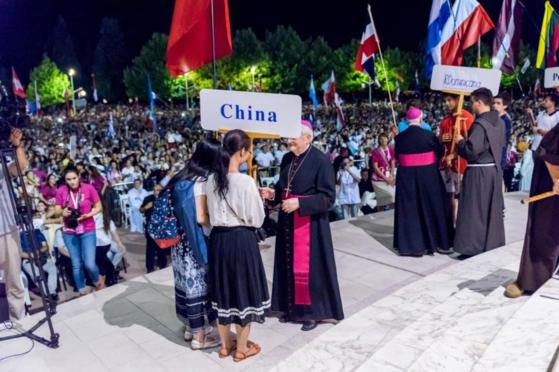 All photos obtained from the parish of St. James in Medjugorje's website.
You can find more information about the 29th Annual Medjugorje Youth festival at the following links:
© Janet Moore 2018. All Rights Reserved.