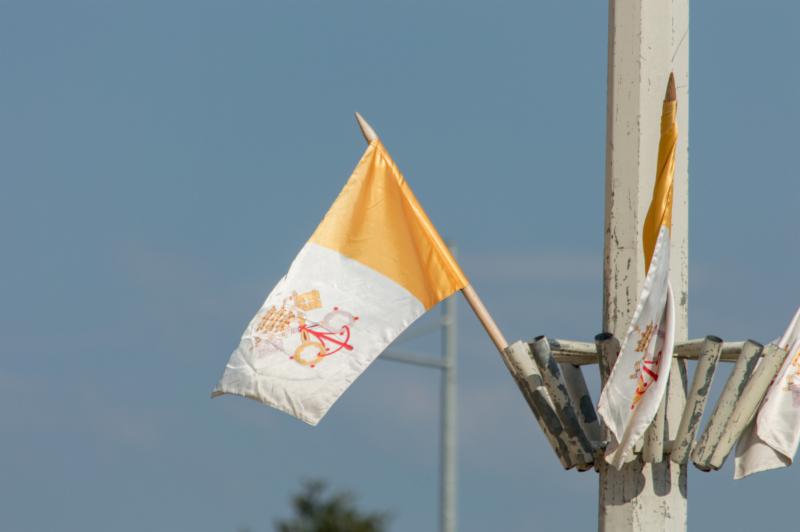 (c)Mateo Ivankovic
The Papal Flag which flies outside St. James Church!!!! July 30, 2018
This Part II of the Series on the Extraordinary Events of the Vatican and Medjugorje — which actually goes back to Pope Francis' first appointment of Archbishop Henryk Hoser to the site of reported daily apparitions of Our Lady for nearly four decades.


Archbishop Hoser was first appointed to Medjugorje by Pope Francis as his Papal Envoy (representative) in the Spring of 2017. He was sent to study the pastoral situation of this place, which attracted so many millions of pilgrims.


After concluding his study, what did the Pope Francis' Representative conclude about Medjugorje?



The Archbishop made these remarks and many others in an interview regarding his time in Medjugorje:
"…this movement will not stop and should not be stopped, because good fruit grows out of it. It is one of the most living places of prayer and conversion in Europe – with a healthy spirituality.

…All indications are that the revelations will be recognized, perhaps even this year. 
Specifically, I think it is possible to recognize the authenticity of the first apparitions as proposed by the cardinal commission, Ruini. [See report on the Vatican commission's findings here — the commission members voted overwhelming to name the first days of apparitions as supernatural.]
Besides, it is difficult to get another verdict, because it is difficult to believe that six seers will lie for 36 years. What they say is consistent. There are no people haunted or mentally disturbed. The powerful argument for the authenticity of the apparitions is Faithfulness to the doctrine of the Church.
 If the revelations, and at least the first seven, will be recognized, this will be a tremendous stimulus for Medjugorje."

Would your Archbishop's diocese recommend a trip to Medjugorje?

"Of course. I would say that it is a pilgrimage of spiritual transformation, conversion and consolidation of faith – because all these elements are realized there.
"
The archbishop also gave an interview to Aleteia in December 2017, following his assignment as Papal Envoy to Medjugorje. In the interview,
Archbishop Hoser's statements express strong pastoral openness regarding Medjugorje, which confirms that while priests, bishops and cardinals
have always been free to go to Medjugorje
(and many thousands have done so)…
Now, according to Archbishop Hoser,
these same priests, bishops, cardinals, even by dioceses and church officials themselves can plan
official
pilgrimages.
Here are some statements taken from the interview:
"The devotion of Medjugorje is allowed. It's not prohibited, and need not be done in secret."
"My mission is precisely to analyze the pastoral situation and propose improvements."
"Today, dioceses and other institutions can organize official pilgrimages. It's no longer a problem."
"Pope Francis recently asked an Albanian cardinal to give his blessing to the faithful present in Medjugorje."
"I am full of admiration for the work the Franciscans are doing there. With a relatively small team—there is only a dozen of them—they do a huge job of welcoming pilgrims. Every summer they organize a youth festival. This year, there were 50,000 young people from around the world, with more than 700 priests."
"There is a massive number of confessions. They have about 50 confessionals, which are not enough. These are very deep confessions."
"This is a phenomenon. And what confirms the authenticity of the place is the large amount of charitable institutions that exist around the sanctuary. And another aspect as well: the great effort that is being made at the level of Christian formation. Each year, they organize conferences at different levels, for various audiences (priests, doctors, parents, young people, couples …)."
"The decree of the former episcopal conference of what used to be Yugoslavia, which, before the Balkan war, advised against pilgrimages in Medjugorje organized by bishops, is no longer relevant."
"What I find touching is that all the seers have turned to family life. In our day and age, the family is of enormous importance. All of them have a family. Those who were teenagers at the time, are already grandmothers; 37 years have passed!"
Given the tremendously positive statements Archbishop Hoser made after his first visit as Papal Envoy, one would think that Pope Francis would have rejected the Archbishop for this second mission if he had disagreed with him.



So, in contrast to what is often reported, because of the overwhelming fruits highlighted by the Archbishop above, perhaps Medjugorje is close to being recognized as a Pontifical Shrine as the Vatican commission reportedly suggested? Or perhaps, it is even on it's way to Papal recognition as Archbishop Hoser suggests?


Regardless of what the future holds, I pray each of us takes some time to reflect on the statements made by the Archbishop quoted in this article. His words provide much to mediate on; and perhaps, after reflection, his words will break through the barriers so many have placed against Medjugorje, which he describes as one of the "sacred spaces, where the encounter with the Divine may be also experienced more intensely than it would be normally in the vastness of the cosmos," [quoting John Paul II].


This seems to echo the sentiments of so many who have traveled to Medjugorje as pilgrims: calling it such a privileged place, that it is where Heaven meets earth. Perhaps Mary is calling you to go as a pilgrim to see for yourself?


May the whole communion of saints, including St. James, St. Joachim and St. Anne intercede for us and lead us to ever greater love for Christ and His Mother.
See Part I, What is the Holy Father's Mission In Medjugorje? here.


© Janet Moore 2018. All Rights Reserved.