Readings and Prayers for St. Louis-Marie de Montfort's

Total Consecration to Jesus through Mary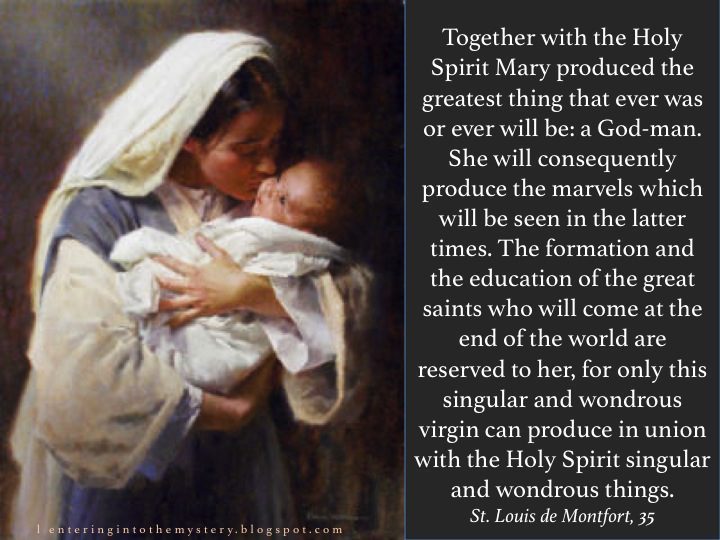 12 Days of Preparation renouncing the spirit of the world
Praying over and reading Christ's Teaching
Learning about Mary's place in God's plan
Day 5 of 33:
Meditate on
Imitation of Christ, by Thomas á Kempis: Book 3, Chapter 40
Wherefore, but I did know well, how to cast from me all human comfort, either for the sake of devotion, or through
the necessity by which I am compelled to seek Thee, because there is no man that can comfort me. Then might I
deservedly hope in Thy favor, and rejoice in the gift of a new consolation. Thanks be to Thee from Whom all
things proceed, as often as it happens to me. I, indeed, am but vanity, and nothing in Thy sight , an inconstant
and weak man. Where, therefore, can I glory, or for what do I desire to be thought of highly?

Forsooth of my very nothingness; and this is most vain. Truly vainglory is an evil plague, because it draws away
from true glory, and robs us of heavenly grace. For, while a man takes complacency in himself, he displeases
Thee; while he wants for human applause, he is deprived of true virtues. But true, glory and holy exultation is to
glory in Thee, and not in one's self; to rejoice in Thy Name, but not in one's own strength. To find pleasure in no
creature, save only for Thy sake. Let Thy Name be praised, not mine; let Thy work be magnified, not mine; let Thy
Holy Name be blessed, but let nothing be attributed to me of the praise of men. Thou art my glory; Thou art the
exultation of my heart; in Thee, will I glory and rejoice all the day; but for myself, I will glory in nothing but in my
infirmities.
Listen, Sing and Watch or Pray just the words depending on your time constraints:

Veni Creator, Ave Maris Stella, Magnificat, and Glory Be
Veni Creator sung in Latin with English Translation
Come, O Creator Spirit blest!
And in our souls take up thy rest;
Come with Thy grace and heavenly aid,
To fill the hearts which Thou hast made.
Great Paraclete! To Thee we cry,
O highest gift of God most high!
O font of life! O fire of love!
And sweet anointing from above.
Thou in Thy sevenfold gifts art known,
The finger of God's hand we own;
The promise of the Father, Thou!
Who dost the tongue with power endow.
Kindle our senses 'from above,
And make our hearts o'erflow with love;
With patience firm and virtue high
The weakness of our flesh supply.
Far from us drive the foe we dread,
And grant us Thy true peace instead;
So shall we not, with Thee for guide,
Turn from the path of life aside.
Oh, may Thy grace on us bestow
The Father and the Son to know,
And Thee through endless times confessed
Of both the eternal Spirit blest.
All glory while the ages run
Be to the Father and the Son
Who rose from death; the same to Thee,
O Holy Ghost, eternally. Amen.
Ave Maria Stella – Sung in Latin with English Translation
Hail, bright star of ocean,
God's own Mother blest,
Ever sinless Virgin,
Gate of heavenly rest.
Taking that sweet Ave
Which from Gabriel came,
Peace confirm within us,
Changing Eva's name.
Break the captives' fetters,
Light on blindness pour,
All our ills expelling,
Every bliss implore.
Show thyself a Mother;
May the Word Divine,
Born for us thy Infant,
Hear our prayers through thine.
Virgin all excelling,
Mildest of the mild,
Freed from guilt, preserve us,
Pure and undefiled.
Keep our life all spotless,
Make our way secure,
Till we find in Jesus
Joy forevermore.
Through the highest heaven
To the Almighty Three,
Father, Son and Spirit,
One same glory be. Amen.
The Prayer of Mary – The Magnificat
My soul proclaims the greatness of the Lord,
my spirit rejoices in God my Savior
for he has looked with favor on his lowly servant.
From this day all generations will call me blessed:
the Almighty has done great things for me,
and holy is his Name.
He has mercy on those who fear him
in every generation.
He has shown the strength of his arm,
he has scattered the proud in their conceit.
He has cast down the mighty from their thrones,
and has lifted up the lowly.
He has filled the hungry with good things,
and the rich he has sent away empty.
He has come to the help of his servant Israel
for he remembered his promise of mercy,
the promise he made to our fathers,
to Abraham and his children forever.
(Lk 1:46-55)
Glory be to the Father and to the Son and to the Holy Spirit
as it was in the beginning, is now and ever shall be, world without end. Amen.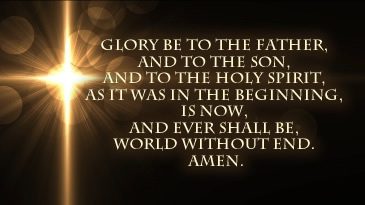 Examine your conscience, pray, practice renouncement of your own will; mortification, purity of heart. This purity is the indispensable condition for contemplating God in heaven, to see Him on earth and to know Him by the light of faith. The first part of the preparation should be employed in casting off the spirit of the world which is contrary to that of Jesus Christ.

The spirit of the world consists essentially in the denial of the supreme dominion of God; a denial which is manifested in practice by sin and disobedience; thus it is principally opposed to the spirit of Christ, which is also that of Mary. It manifests itself by the concupiscence of the flesh, by the concupiscence of the eyes and by the pride of life, and by disobedience to God's laws and the abuse of created things. Its works are: sin in all forms, then all else by which the devil leads to sin; works which bring error and darkness to the mind, and seduction and corruption to the will. Its pomps are the splendor and the charms employed by the devil to render sin alluring in persons, places and things.

Read:
St. Louis de Montfort's True Devotion to Mary paragraphs 34-41
2. Mary's part in the sanctification of souls
34.
God the Holy Spirit wishes to fashion his chosen ones in and through Mary. He tells her, "My well-
beloved, my spouse, let all your virtues take root in my chosen ones that they may grow from strength to
strength and from grace to grace. When you were living on earth, practising the most sublime virtues, I was
so pleased with you that I still desire to find you on earth without your ceasing to be in heaven. Reproduce
yourself then in my chosen ones, so that I may have the joy of seeing in them the roots of your invincible
faith, profound humility, total mortification, sublime prayer, ardent charity, your firm hope and all your
virtues. You are always my spouse, as faithful, pure, and fruitful as ever. May your faith give me believers;
your purity, virgins; your fruitfulness, elect and living temples."
35.
When Mary has taken root in a soul she produces in it wonders of grace which only she can
produce; for she alone is the fruitful virgin who never had and never will have her equal in purity and
fruitfulness. Together with the Holy Spirit Mary produced the greatest thing that ever was or ever will be: a
God-man. She will consequently produce the marvels which will be seen in the latter times. The formation
and the education of the great saints who will come at the end of the world are reserved to her, for only this
singular and wondrous virgin can produce in union with the Holy Spirit singular and wondrous things.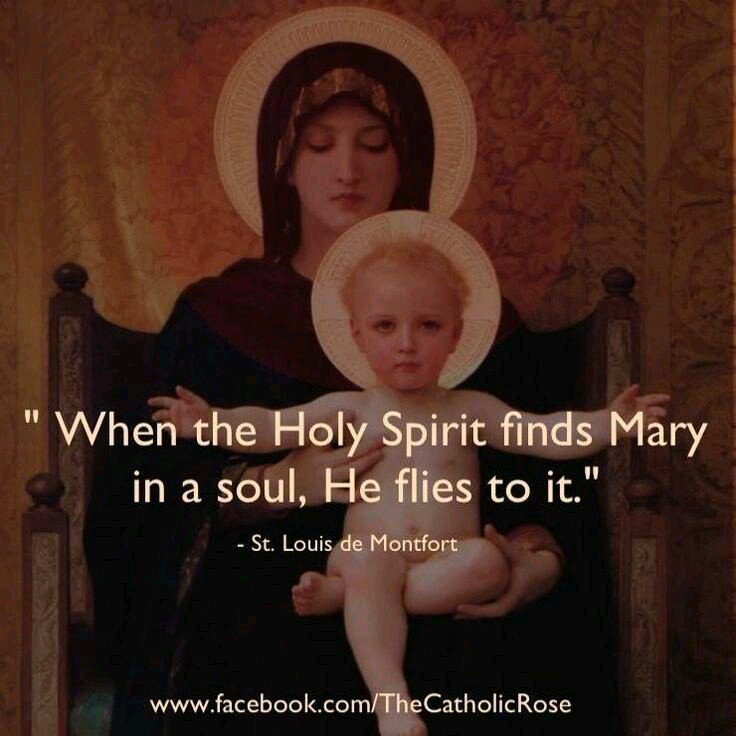 36. When the Holy Spirit, her spouse, finds Mary in a soul, he hastens there and enters fully into it. He
gives himself generously to that soul according to the place it has given to his spouse. One of the main
reasons why the Holy Spirit does not work striking wonders in souls is that he fails to find in them a
sufficiently close union with his faithful and inseparable spouse. I say "inseparable spouse", for from the
moment the substantial love of the Father and the Son espoused Mary to form Jesus, the head of the elect,
and Jesus in the elect, he has never disowned her, for she has always been faithful and fruitful.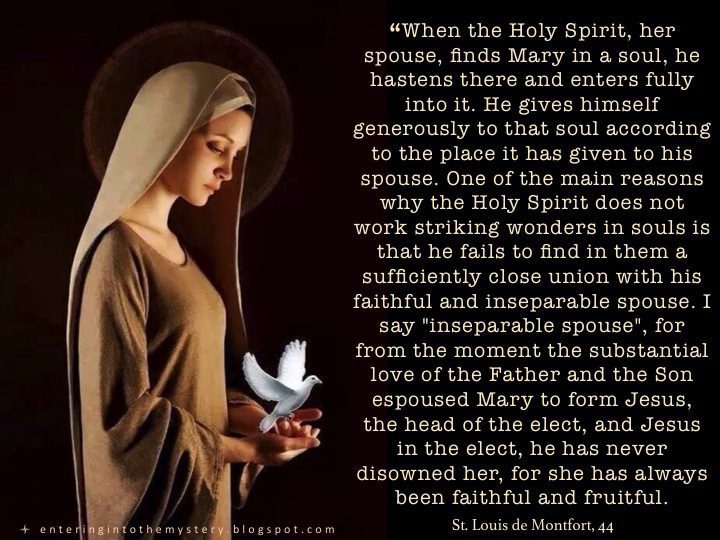 3. Consequences
37. We must obviously conclude from what I have just said:

First, that Mary received from God a far-reaching dominion over the souls of the elect. Otherwise
she could not make her dwelling-place in them as God the Father has ordered her to do, and she could not
conceive them, nourish them, and bring them forth to eternal life as their mother. She could not have them
for her inheritance and her possession and form them in Jesus and Jesus in them. She could not implant in
their heart the roots of her virtues, nor be the inseparable associate of the Holy Spirit in all these works of
grace. None of these things, I repeat, could she do unless she had received from the Almighty rights and
authority over their souls. For God, having given her power over his only-begotten and natural Son, also
gave her power over his adopted children – not only in what concerns their body – which would be of little
account – but also in what concerns their soul.

38. Mary is the Queen of heaven and earth by grace as Jesus is king by nature and by conquest. But as
the kingdom of Jesus Christ exists primarily in the heart or interior of man, according to the words of the
Gospel, "The kingdom of God is within you", so the kingdom of the Blessed Virgin is principally in the
interior of man, that is, in his soul. It is principally in souls that she is glorified with her Son more than in
any visible creature. So we may call her, as the saints do, Queen of our hearts.

39. Secondly, we must conclude that, being necessary to God by a necessity which is called
"hypothetical", (that is, because God so willed it), the Blessed Virgin is all the more necessary for men to
attain their final end. Consequently we must not place devotion to her on the same level as devotion to the
other saints as if it were merely something optional.

40. The pious and learned Jesuit, Suarez, Justus Lipsius, a devout and erudite theologian of Louvain,
and many others have proved incontestably that devotion to our Blessed Lady is necessary to attain
salvation. This they show from the teaching of the Fathers, notably St. Augustine, St. Ephrem, deacon of
Edessa, St. Cyril of Jerusalem, St. Germanus of Constantinople, St. John Damascene, St. Anselm, St.
Bernard, St. Bernardine, St. Thomas and St. Bonaventure. Even according to Oecolampadius and other
heretics, lack of esteem and love for the Virgin Mary is an infallible sign of God's disapproval. On the other
hand, to be entirely and genuinely devoted to her is a sure sign of God's approval.

41. The types and texts of the Old and New Testaments prove the truth of this, the opinions and
examples of the saints confirm it, and reason and experience teach and demonstrate it. Even the devil and
his followers, forced by the evidence of the truth, were frequently obliged against their will to admit it. For
brevity's sake, I shall quote one only of the many passages which I have collected from the Fathers and
Doctors of the Church to support this truth. "Devotion to you, O Blessed Virgin, is a means of salvation
which God gives to those whom he wishes to save" (St. John Damascene).
Come, Holy Spirit, living in Mary
, help me be generous in giving all I am and have to Mary."
© Janet Moore 2018. All Rights Reserved.