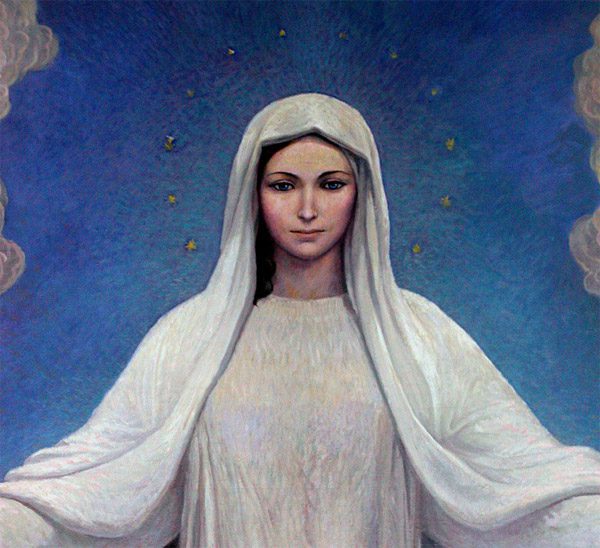 Painting of the Gospa, the Croatian term for Our Lady. It hangs in the main hall in Medjugorje.


It is estimated that over 50 million people have traveled to Medjugorje during the last 37 YEARS of the reported daily apparitions of Our Blessed Mother.


In this time countless signs and wonders have been reported – including thousands of miraculous physical, spiritual, emotional and relational healings!


Also, hundreds upon hundreds of priests and religious have received their vocations here.


The reported visionaries state that Mary is being sent to remind the world (that lives as if there is no God), that He exists and that He is the ultimate answer of our lives and needs!


Evident in this time of history, Satan is strong and is constantly at work to destroy faith, life, family, relationships and ultimately our souls.


In answer, Jesus has given us a time of incomparable grace by sending us His Mother (and Ours) with the power (in Him) to pour upon us countless graces for conversion, because He loves us so much that He seeks to save us and bring us back to Him.


Mary came on the feast of John the Baptist, as a voice crying out into the desert: "Prepare the way of the Lord!…
Return to Him and be saved!"


Her main messages include a "Peace Plan" from heaven which consists of praying with the heart
— particularly
the rosary,
conversion (confession 1x month),
living the Eucharist,
praying with Scripture,
and fasting (2x a week on Wednesday and Fridays on bread and water).


By these means, God's plans to save us will be realized.


© Janet Moore 2018. All Rights Reserved.


For more information, please read some of my other reports on Medjugorje:
Innumerable Reasons the Chief Exorcist of Rome proclaims Medjugorje "A Fortress Against Satan"
Saint Pope John Paul II and Medjugorje
Installment of the Apostolic Visitor in Medjugorje: "Sign of a Great Respect and Recognition … The Act Through Which the Church Officially Recognized the Good Fruits of Medjugorje", also here, here and here.
Medjugorje… Over 33 Years of Reported Apparitions – Should We Believe?