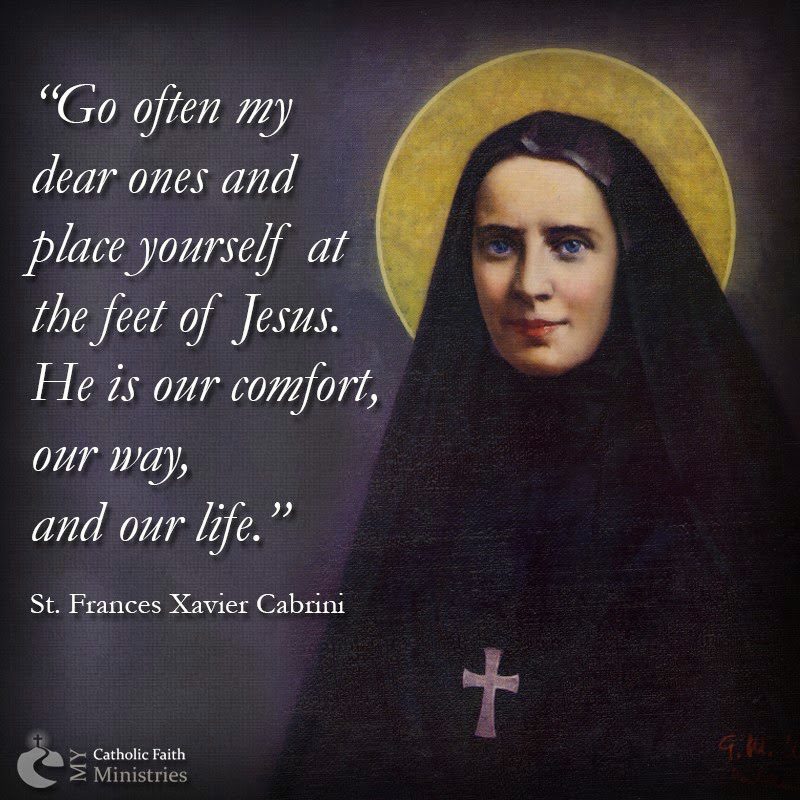 Do you ever wonder what God has in mind for your life?
I have been told that each of us has a special mission.
That each of us bears a special and unique characteristic of God's life and love that we are meant to share with the world.
It is a mission that we alone
can alone fill
, equipped with the unique gifts God has given particularly to us.
No one else can fulfill this mission God has e
ntrusted
to us.
If we don't fulfill our mission … our place … our part in His plan of salvation, it will be forever left undone.
St. Frances Xavier Cabrini's life is amazing! Against all odds — against the limitations of her ill health, she was able to travel and minister across the world!
Frances was the 10th of 11 children, born two months prematurely in 1850 in Northern Italy.
She grew up hearing stories
of
incredible saints and missionaries that her father would read to the family each night. She greatly desired to be a missionary to China, but because Frances of poor health she was
dissuaded
from religious life because she was thought to be too weak and sickly to endure its hardships.
So, instead, she began to teach until she was asked by diocesan authorities to take over the administration of an orphanage. She and five teachers who worked at the orphanage began their formation into the religious life, eventually forming their own order: The Institute of
the Missionary Sisters of the Sacred Heart of Jesus.
With the founding of this new order, Frances thought this must be how God would fulfill her desire to go to China! But, instead, her order was asked to go to the United States. Unsure if this was the will of God, she went to the Pope Leo XIII for guidance. He assured her, that she was meant to go "Not to the
East,
but to the West."
She began her work in New York City, founding a orphanage, a free school and teaching catechism to the Italian immigrants. Soon she opened a larger orphanage at the Archbishop's request; and then founded an
orphanage and a school in New Orleans.
The Archbishop then asked Mother Cabrini to begin hospital work.
She didn't think this was part of her mission, until she had a dream of Our Blessed Mother tending the sick in a hospital. In the dream she asked Mary what she was doing. Mary responded, "I am doing the work you refuse to do."
She quickly established a hospital in New York City. And would establish other hospitals in Chicago and Seattle.
Her missionary spirit would lead her to establish schools and orphanages in Latin America,
Madrid and Paris, Chicago, Scranton, Pennsylvania, Newark, New Jersey, the Rocky Mountains, Seattle and throughout California…
This woman, who was deemed too sick to enter religious life, traveled all over the world. For twenty eight years, she made the tremendously hard trip
across the Atlantic Ocean many, many times.
She is fondly remembered as saying, "The Heart of Jesus does things in such a hurry that I can barely keep up with him."
By the time she died, on December 22, 1917, at the age of 67, there were over 1,000 sisters and
67 missions of the Institute that she had personally founded!
Pope Pius XII penned a beautiful tribute to her in his homily for her canonization in 1946. One
excerpt
of it reads:
"Where did she acquire all that strength and the inexhaustible energy by which she was able to perform so many good works and to surmount so many difficulties involving material things, travel and men?
Undoubtedly she accomplished all this through the faith which was always so vibrant and alive in her heart; through the divine love which burned within her; and, finally, through constant prayer by which she was so closely united with God from whom she humbly asked and obtained whatever her human weakness could not obtain."
None of us are probably called to travel throughout the world establishing schools and orphanages like St. Frances Cabrini…
But there are undoubtedly people close to us that we alone can reach.
There are undoubtedly gifts that we alone have to give.
In
Matthew's Gospel (25: 35 -40), Jesus tells us that He is present in the hungry, the thirsty, the
homeless… the most neglected. He tells us that whatever we do for the least of these, we do to him.
May we see the needs of those around us — especially those in our own homes — and with faith and generosity of Spirit, share the part of God's love that is given for each of us alone to share.
Regardless of our state of life, our health, or our circumstances… Dear Jesus, help us to realize the POWER of a LIFE LIVED in LOVE of YOU!
Help us to know the infinite value of our prayers and sacrifices and the great riches that we can share with others just by embracing our cross and offering it in union with Your sacrifice, O Lord!
Help us not to get discouraged or fearful, but just cling to You and Your infinite power to save!
Knowing none of us are ever too far gone for help.
No matter what we have done or failed to do thus far…
O Jesus, You are powerful and loving enough to use us in our frailty, our weakness and humility — Writing straight with crooked lines a beautiful masterpiece of grace from the littleness of our lives!
St. Frances Xavier Cabrini, help us
to love Christ with the same intensity and passion you did. Help us to see Christ in ourselves and in each other. H
elp us desire to minister to others, and to desire to bring others to Christ.
St. Frances Xavier Cabrini, pray for us!
Copyright 2014 Janet Moore