Mary revealed herself to us by saying: "I am the Immaculate Conception" in Lourdes, France in 1858 — when the young girl, Bernadette, to whom she had been appearing, asked her who she was.
I spoke of the Consecrating ourselves to Mary in a previous post. By contemplating this Consecration, it will help us to understand more fully the Immaculate Conception.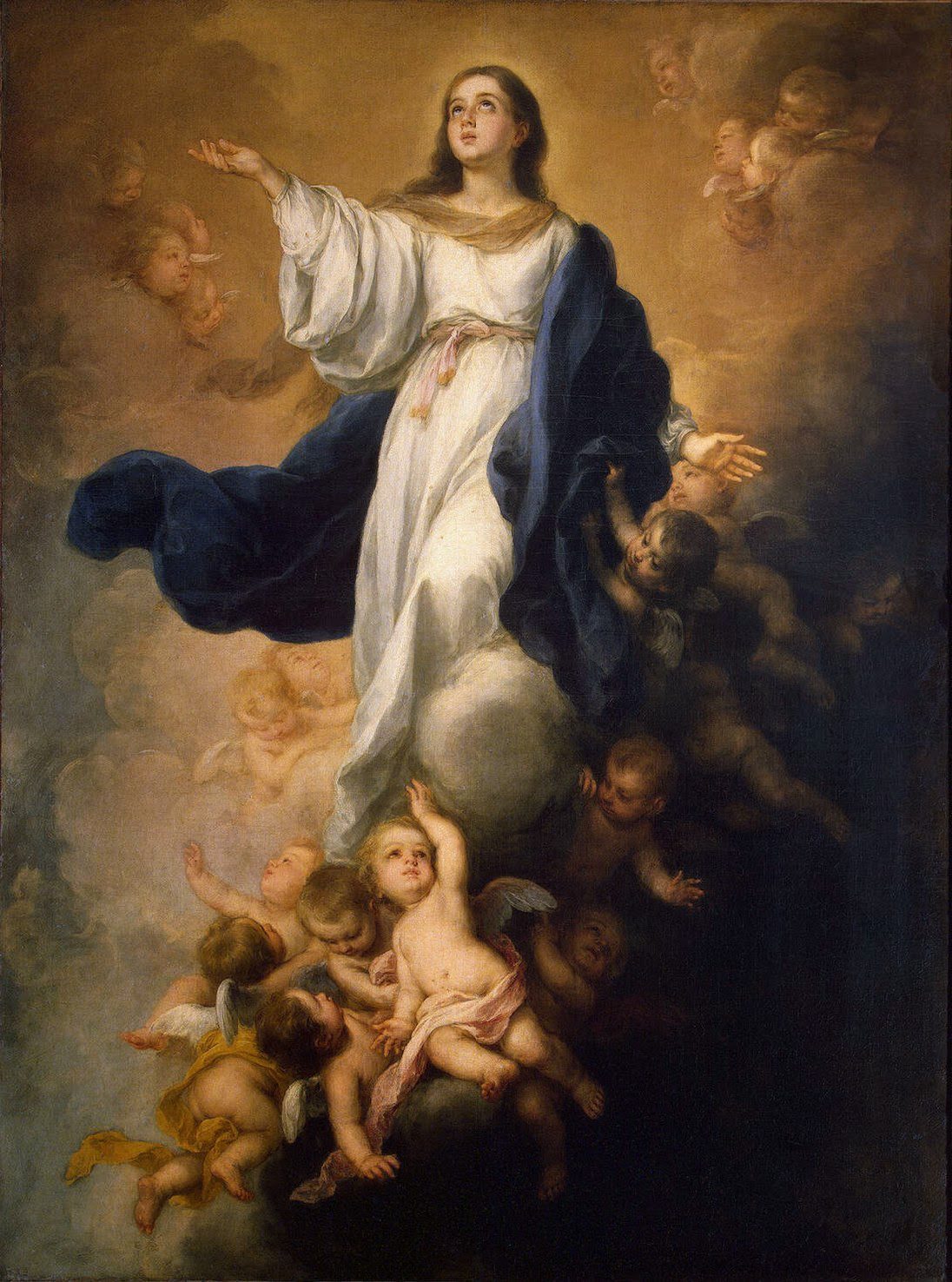 Immaculate Conception, Bartolome Murillo.
Today, I'm sharing another great saint of our times who lived this total Consecration to Jesus through Mary. It is St. Maximilian Kolbe, the famous martyr of the 20th Century, who offered himself in exchange for another prisoner's life in the German Concentration Camp of Auschwitz during WWII. He is also famous for founding the "Militia Immaculata," which is the "Army of Mary" formed by those who have consecrated themselves to her. He believed that this Consecration, and the souls formed through Mary's intercession and love, would bring about the salvation of the world.


He spent his life contemplating Mary as the Immaculate Conception and wrote many amazing things about her, whom he referred to as the Immaculata.
Here are a few of my favorite quotes:
"Of herself, Mary is nothing, even as all other creatures
are; but by God's gift she is the most perfect of creatures, the most perfect
image of God's divine being in a purely human creature. She is God's instrument. With full consciousness and total willingness
she allows God to govern her; she consents to his will, desires only what He
desires, and acts according to his will in the most perfect manner, without
failing, without ever turning aside from his will.
She makes perfect use of the powers and privileges God has
given her, so as to fulfill always and in everything whatever the Lord wants of
her, purely for love of God, One and Three.
This love of God reaches such a peak that it bears the divine fruits
proper to God's own love. Her love for
God brings her to such a union with him that she becomes the Mother of
God. The Father confides to her his Son;
the Son descends into her womb, and the Holy Spirit fashions out of her
perfectly pure body the very Body of Jesus."
"The fruit of the love of His Trinitarian life and of Mary
the Immaculata is Christ the God-Man."
"In the
union of the Holy Spirit with Her, love unites not only two beings, but one
that is the entire love of the Trinity, the other the entire love of a creature,
and in this union heaven and earth are united – the height of love is
achieved."
"We should strive rather that souls may constantly deepen their love for her, that the bond of love between her and these souls may grow ever closer, and these souls may henceforth be one with her, with her alone. Just as the Immaculata herself belongs to Jesus and to God, so too every soul through her and in her will belong to Jesus and to God in a much more perfect way than would have been possible without her. Such souls will come to love the Sacred Heart of Jesus much better than they have ever done up to now. Like Mary herself, they will come to penetrate into the very depths of love, to understand the cross, the Eucharist much better before. Through her, divine love will set the world on fire and will consume it; then will the "assumption of souls in love" take place. When, oh when, will the divinization of the world in her and through her come about?"
"Until the end of time, we must win the universe and each individual soul, now and in the future, for the Blessed Virgin, and through Her, for the Sacred Heart of Jesus. Those souls will reach a much better and more profound love for the Sacred Heart than ever before. Through their love the world will be set on fire and consumed." St. Maximilian Kolbe
In Mary, we see who we are called to be!
We are called to live in union with God, to be filled with His Grace and bearers of Jesus to the world. We have been made sinless through the power of Jesus' sacrifice; and we, too, are meant to reign in heaven with Our God for all eternity.
May we seek to live according to our profound and inherent dignity and call.


And may we reflect upon Mary's unique and singular grace and her part in the plan of our salvation in these days of Advent and always, drawing ever closer to her, our Mother. And may we consider offering ourselves to God through Mary in total Consecration, so to become a member of her "Militia Immaculata."


O Mary, Conceived without Sin, pray for us who have recourse to thee!





Copyright 2014 Janet Moore