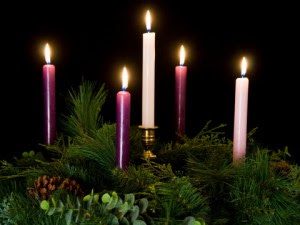 The Advent wreath is one of my favorite traditions and devotions.
I have wonderful memories of each of my children's eyes sparkling in anticipation and love as they were entrusted with lighting the candles. Often, the traditional prayers for the Advent wreath have been replaced or left unsaid. In the beginning, we had tried to pray with the prayers provided in Advent wreath prayer leaflets, but soon found that reading from little books of Advent reflections for children, or reading Scripture passages was more helpful. But, more often than not in the last few years, I have taken to singing the
O' Antiphons,
popularized in the beautiful hymn,
"O Come, O Come, Emmanuel,"
because the words never cease to stir my soul. For I, too, long for Emmanuel, God With Us, to be felt among the untold number of souls and broken families who are living in such pain and exile in this world, captive to the sins that the evil one assured them would be their freedom.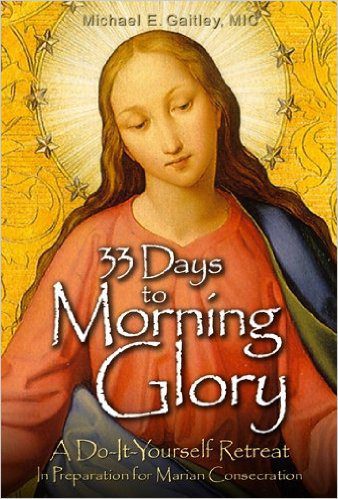 Besides the timeless beauty of sharing a meal around the light of the Advent wreath, I am SO EXCITED to share with you a new tradition we just began this year — we are reading together as a family the book, 33 Days to Morning Glory, by Fr. Michael Gaitley.
The book contains instructions that guide you in understanding the quickest, easiest and surest way to holiness. It is offering yourself completely to God (specifically to Jesus through Mary) in Consecration. This book is meant to provide a new, updated version of St. Louis de Montfort's classic,
True Devotion to Mary
. St. Louis' book changed my life and led me to make a solemn Consecration of myself to Jesus through Mary about 2o years ago. In the years since, I have renewed it again and again, and it has never failed to greatly impact my life. John Paul II was a big proponent of this devotion. So much so, that his papal motto was,
"Totus Tuus,"
meaning "
Totally Yours"
in Latin. This expresses the idea of the soul totally giving everything to our Mother, so she can help not only lead us to Jesus but also form us into Him through her love and intercession. About 4 or 5 years ago, I began to renew my solemn Act of Consecration each morning, (after I heard that John Paul II had done the same), and I can't begin to express how much my life has opened up and has been transformed. I highly, highly, highly recommend doing this! Each time, I have made the Consecration, it is like a new world of grace and opportunities have opened up for me!
33 Days to Morning Glory
is a family friendly, engaging and modern way of expressing the content of the classic
True Devotion to Mary,
(which I didn't think was possible). So far, we have really enjoyed it (my husband and 14 year old daughter and I). It is written so that only 1 – 2 pages need to read each day for 33 days. The 33 day format is a perfect timeline for Advent –(but you can do it at any time of the year). St. Louis only recommended that you always end (and thus, make your Consecration) on a Marian Feast Day. The 33 day plan we have undertaken began on November 29 (we actually started on November 30 — so we'll catch up and do 2 days on one day) so we can end on January 1st — the feast of Mary, the Holy Mother of God.
I have often wanted to share this devotion with my family. I'm so excited that it is now possible with this amazing new resource. I pray that you may be inspired to try out this devotion if you haven't already done so. This book is probably perfect for middle school age and up. If your kids are still young, I invite you to do this for yourself or together with your spouse if they are willing. You'll be glad you did.
Copyright 2014 Janet Moore