Open Wide the Doors of Christ!!!
In this time of such deep division, confusion, hatred and violence. God has given us the remedy. For,
"where sin abounds, grace abounds all the more"
Romans 5:20.
Thus, let us never lose hope; but, instead, commit ourselves to receiving and pouring out all the grace that abounds in the Body of Christ during this Extraordinary Year of Mercy.
By entering through the Holy Doors, we are entering into not only into unfathomable realities, but we are tangibly responding to what St. John Paul II proclaimed in his first homily as Pope:
"Do not be afraid. Open wide the doors for Christ. To his saving power open the boundaries of States, economic and political systems, the vast fields of culture, civilization and development. Do not be afraid. Christ knows "what is in man". He alone knows it."
This Extraordinary Year ends this Sunday, November 20th on the Solemnity of Christ the King. So, we only have a few days left to experience the grace of entering through the Holy Doors.
The Holy Doors are signs of this abounding grace and saving power of Christ in so many ways…
But to enter into this abounding grace, it is helpful to first understand this time of Jubilee.
During this
Extraordinary Year of Mercy
, every diocese has taken up to call to "open wide the doors of Christ!" They have responded by opening doors that are normally sealed in Cathedrals and other designated Churches so that they become Jubilee Doors – Holy Doors.
Why?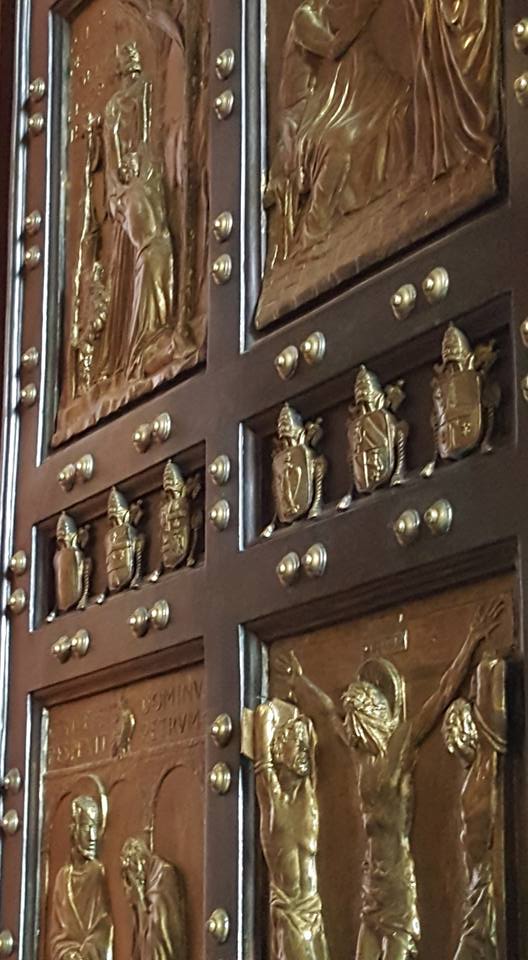 Detail of the Holy Door at St. Peter's in Rome
The Holy Doors are a Sign of the Great Jubilee Year
It is a sign of the great Jubilee Year that God instructed His people to declare every 50 years in the Old Covenant. This Jubilee would mark a time of extraordinary mercy following the perfect number of years (Seven is known as the number of perfection in Scripture. Thus, we arrive at 49 years by multiplying seven years by seven).
In the Jubilee year
( see
Leviticus 25:8-13)
the Mercy of God was particularly manifested as it granted liberty to all. Remitting all debts and giving God's people the ability to return to their own home and their own families, regardless of how they might have squandered them away in previous years. It was a year of rest of labor and considered a Sabbath of years that was holy, in which all were to eat of its increase!
In light of this knowledge, it is apparent that
this Extraordinary Year of Mercy is exactly that: extraordinary!
Pope Francis felt compelled to inaugurate a Jubilee
without waiting for another 50 years to come around again, proclaiming in his teaching the preeminence of Jesus as God's Mercy incarnate:
Jesus Christ is the face of the Father's mercy. These words might well sum up the mystery of the Christian faith. Mercy has become living and visible in Jesus of Nazareth, reaching its culmination in him.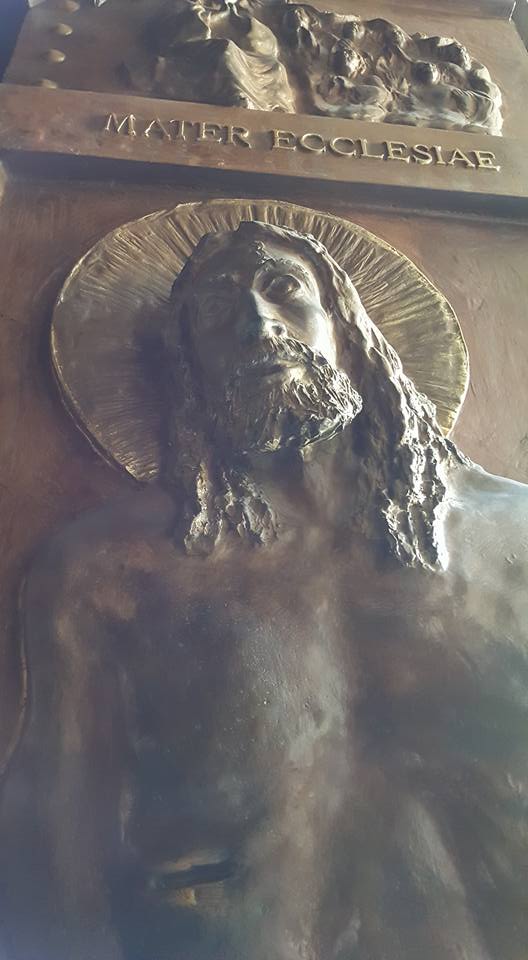 Detail of Holy Door at St. Mary Major in Rome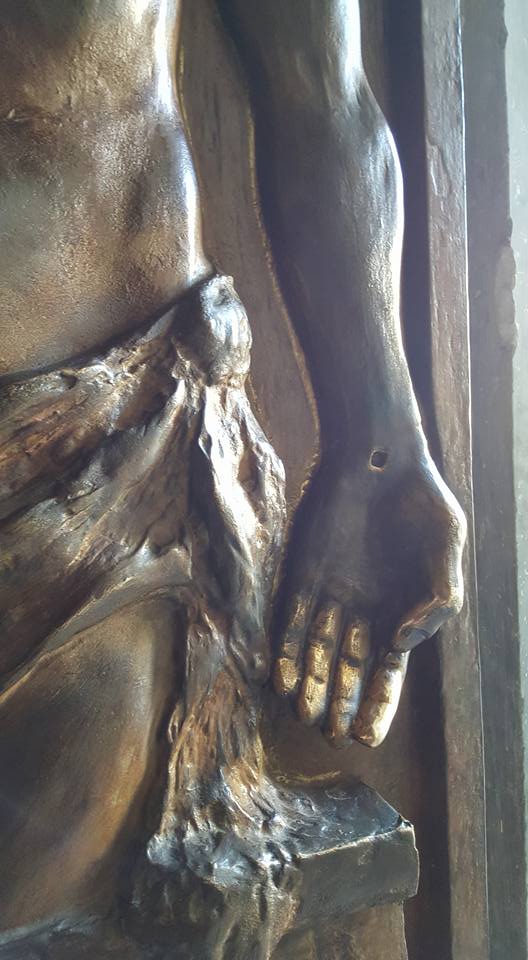 Detail of Holy Door at St. Mary Major in Rome
We have been living in this time of
extraordinary grace and mercy
(perhaps without realizing it) since December 8th, 2015.
This year has been a sign for us to cling to Christ and the Mercy He has won for us. And by doing so, we are to be assured that God is more powerful than the sin and evil that is so prevalent in our world.
So, what's the big deal about going through Holy Doors?
After this Sunday, we can't enter through Holy Doors… Why is it important?
And why doors? It seems like an odd way to show forth God's grace and mercy.
Actually, these same questions are ones that I've asked myself. So, I've prayed for wisdom so that I could enter more fully into this gift the Church has given us.
The Holy Doors Reveal Deep Scriptural Insights
As I prayed, I began to realize how deeply scriptural the Holy Doors are! The Scriptures not only give us understanding regarding the Holy Doors themselves, but provide profound opportunities to contemplate Christ as we enter through them:
1. Jesus spoke about being the "Door" when He said HE is the ONLY way to the Father, saying:
"I AM the Way, the Truth and the Life. No one can come to the Father except through me!" John 14:6
It is only through and in Christ that we have access to a relationship with the God of all creation. It is in Jesus alone that God is revealed to us as the most Merciful of Fathers. Who, while we were still a long way off, catches sight of us and comes running to embrace us and restore to us everything that sin has tried to rob us of — not only our birthright, but also our Father's daily provisions and most importantly, our relationship with Him as His sons and daughters!
2. "I am the sheep gate. Whoever enters through me shall be saved…" John 10:9
It is profound to comprehend there were no doors to keep the sheep from wandering in Jesus' time… the shepherd would lie across the opening and become, himself, their door of safety and protection. He was the shield that would keep evil from his flock.
The Holy Doors Are A Tangible Sign of Untold and Beautiful Realities
St. John writes of his visions of heaven, saying: "I had a vision of an open door to heaven…" Rev. 4:1


How profound to realize that by entering through the doors of the Catholic Church, we enter into the mystery of heaven present in the Holy Sacrifice of the Mass!
If we had eyes to see, we would see that every Catholic Church is itself an open door to heaven, in which we are lifted up in the Spirit!
Where, in the Mass and in the Sacraments, the great cosmic battle between God and Satan for our souls is won for us in the One, Eternal, Perpetual offering of the Son to the Father that transcends all space and time. In the Mass, we encounter the One Who lives to constantly intercede for us (
cf. Heb. 7:25; Rom. 8:34
)!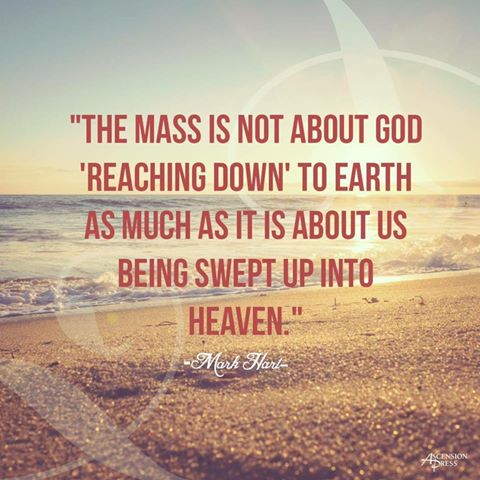 The Holy Doors Physically Express God's Opening Heart of Mercy
Secondly, God loves to use ordinary things to show forth the extraordinary love He has for us! He desires that His love is tangible — that it is touchable to our senses.
For the most extreme example — think of bread and wine becoming His very Body and Blood.
Or water being the sign of Baptism, bringing forth cleansing and new life in which we become tabernacles of God Most High, Father, Son and Holy Spirit.
Or the fact that we, as his adopted children, are called to be His Living Presence — His hands and feet, as well as His priests, prophets and kings –here on earth!
This is the reason Pope Francis placed a sign outside of the Holy Doors of St. Peter's, which reads:
"As you pass through the Holy Door remember that Jesus is the door who introduces you to the embrace of God's mercy. "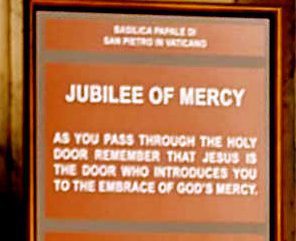 Thus, if we are in the Spirit, by going through the Holy Doors we enter through the heart of Christ into the Arms of Our Merciful Father, Who is ever ready to forgive us!
It is good to ponder the profound depth of this Mystery:
By entering through the doors, we are physically invited to enter into the very Heart of Christ, pierced out of love for us. We are called to be washed by the blood and water that pours forth as a fountain of life and grace for our souls, which opens the way to the Father and pours forth the Holy Spirit in our hearts, so that through Him, with Him, in Him we can renew the face of the earth!
The Holy Doors Are Symbolic Of Our Response To God's Unfathomable Mercy.
By entering through the doors, we are tangibly invited to open wide the door of our hearts, minds and wills to receive the Mercy that Jesus suffered, died and rose from the dead to give us.
"Behold, I stand at the door and knock. If anyone hears my voice and opens the door, I will come in to him and eat with him, and he with me" Rev. 3:20.
Jesus has won our freedom, but it is up to us to respond and to accept the embrace of the Merciful Father and allow Him to shower gifts of sonship and so enter into relationship with Him! We do this by returning home to Him with a humbled and contrite heart seeking only to give ourselves as an offering to Him.
Lastly, They Signify God's Desire To Heal The World Through Us!
Remember, God wants to make use of His creation to proclaim His love – to be a tangible, physical sign of His power and grace! He tells us: "All I have is yours." Lk 15:31
And it is exactly in receiving all He has that we are given the means to give. It is in being loved that we are able to love. It is in receiving Mercy that we are able to be mercy for others.
Thus, the act of going through Holy Doors is not meant to be a selfish act of receiving only mercy for ourselves, but an action that in time will lead us to long to live the

Spiritual

and

Corporal Works of Mercy.

It is meant to be an action that pleads for the grace of Jesus' Sacrifice to pour upon souls to quench the fires of violence and hatred that Satan is stirring up within us and among us. We must never lose sight that we are fighting a supernatural battle that is a result of sin, division and confusion that stems from rejecting of God's Mercy and His Truth.

So, we hold fast to the supernatural means of grace and the power of prayer to open hearts to receive and be transformed by the infinite tenderness and love of God!
Of course, the Doors of Mercy closing isn't a sign of God's Mercy ending for us.
But, by receiving this extraordinary grace, we are able to pour out His Mercy in a unique way to the suffering Church in all its forms.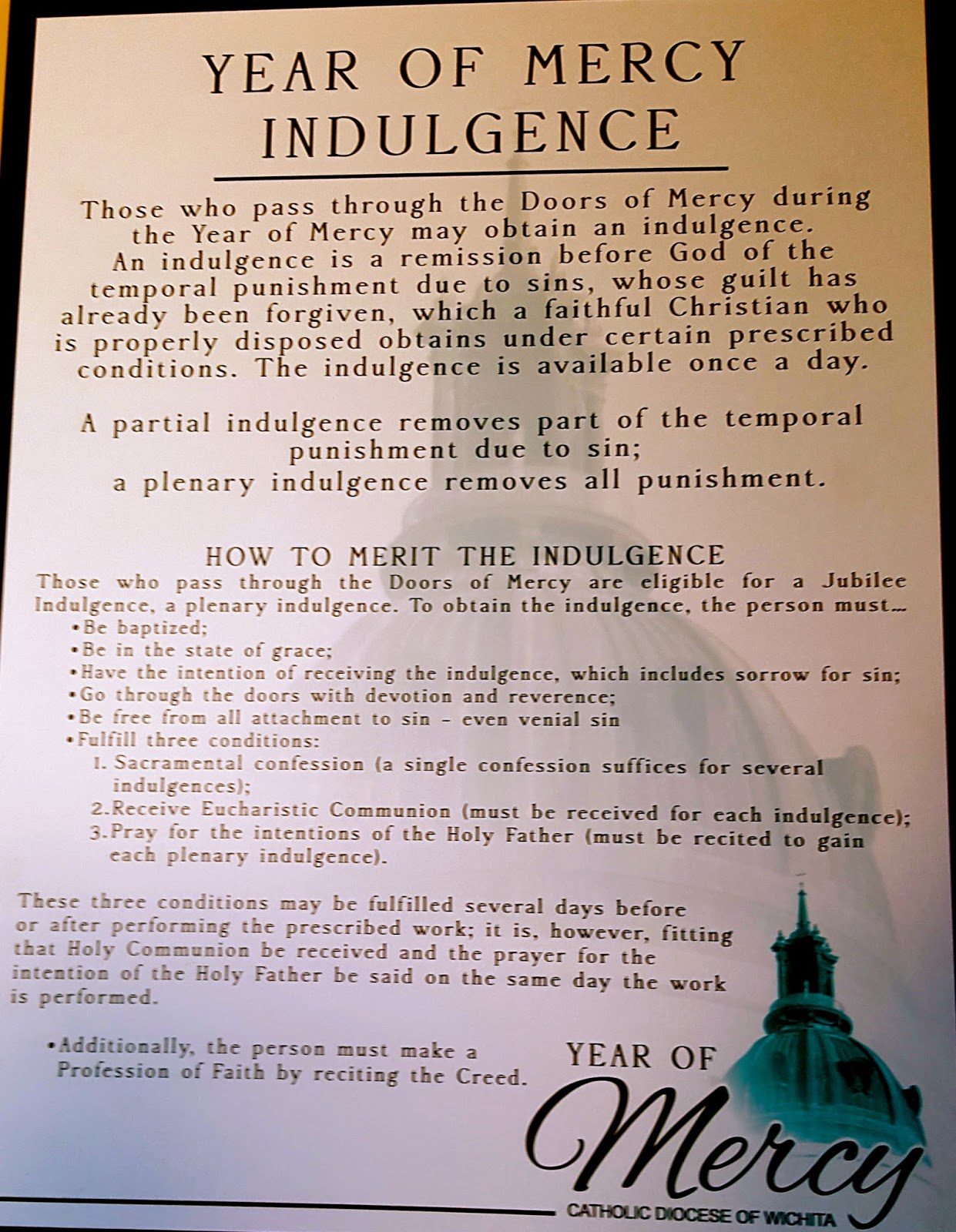 Going through Holy Doors during this Jubilee of Mercy has been something deeply meaningful to ponder and even more profound to experience.
I was able to enter through Holy Doors not only in my home diocese, but throughout Rome and Italy this past Spring. (You can read about my pilgrimage during this Year of Mercy
here).
It is because I have had these extraordinary experiences, I feel compelled to share this opportunity with you while there is still time.
So, please consider taking a minute or two to locate a Holy Door in your area and make a plan to enter through it. Do it not just for yourself, but to help God pour forth His Mercy on our families, on the poor souls in purgatory, on our nation and on the world!
I promise, you'll never regret it!
© 2016 Janet Moore. All photographs and all words are the sole property of Janet Moore. All Rights Reserved.