Day 7 Total Consecration to Jesus through Mary and St. Joseph!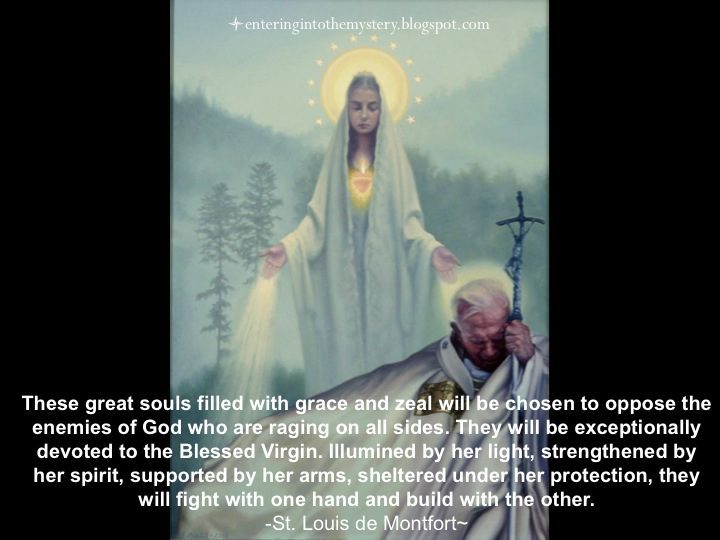 We come together again, on this feast day of St Catherine of Siena, to
prepare to make our consecration in union with our bishops.
Before I
share some of the wisdom of St. Catherine, I wanted to ponder the
prophesy of St. Louis de Montfort once more because it is so
tremendously important.
Yesterday I wrote these words (in part):
… we are being called to be the great saints of these latter days!
Not because of our greatness, but…
because through our humility and littleness in giving ourselves totally to Mary,
she, who is all love and who is full of grace…
and who crushes with her heel the head of the serpent…
will, in her great love for us,
give everything she is and has to us in return!
We give all of ourselves,
and in exchange –
receive all of Mary,
all her gifts
and all whom she loves as well!
What a glorious exchange!!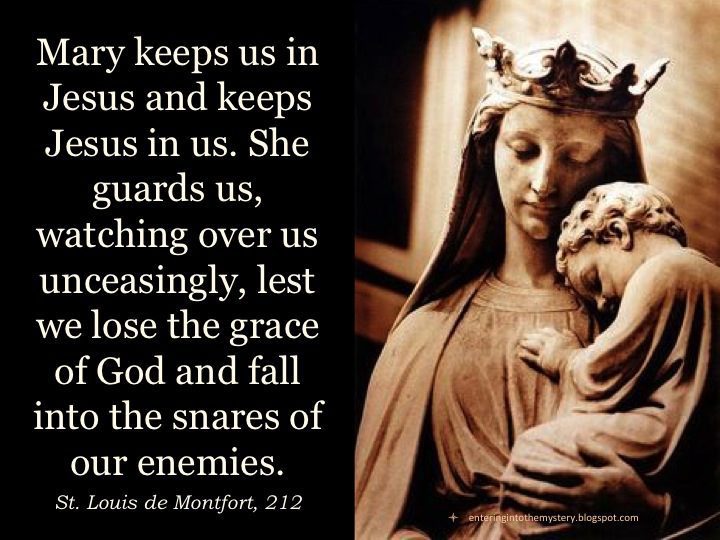 In addition to this, I wanted to add something even more wondrous in this exchange:
when Mary gives us herself –
she gives us, to the fullest extent possible,
the Blessed Trinity who lives inside her as well!
It is expressly because Mary consecrated herself fully to God that
Mary is so united with the Father, Son and Holy Spirit
No one (other than Christ) surrendered themselves more fully
Nor died to themselves more completely
than Mary.
She was so empty of herself
that she could rightly be called
Full of Grace!
And thus,
Full of Divine Life
In Consecrating ourselves to Mary, then,
she teaches us how to live in this Divine Economy
Where, paradoxically,
by surrendering ourselves,
we become truly free!
By dying to ourselves
we truly live
and live more fully than we could ever imagine.
And in this LOVE in which she lives,
Mary is able to share Who lives inside her
with us!
That is what consecration does!
With Mary's help and her grace,
God is able to come and live in us in a greater way
than we could ever receive Him on our own.
This is one of the reasons why St. Catherine of Siena
was so filled with God…
It is because she, too, consecrated herself fully to God
through Mary (see below)
So therefore, was able to become who God had created her to be!
When we empty ourselves
and seek God (instead of sin and pride and vanity)
He comes to dwell in us and makes His Home in us (cf. John 14:23)
And He comes on fire with love
So we too catch fire!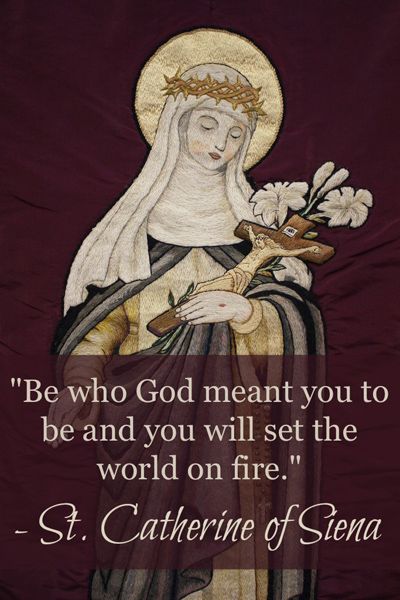 My Nature is Fire:
In your nature, eternal Godhead,
I shall come to know my nature.
And what is my nature, boundless love?
It is fire,
because you are nothing but a fire of love.
And you have given humankind
a share in this nature,
for by the fire of love you created us.
And so with all other people
and every created thing;
you made them out of love.
O ungrateful people!
What nature has your God given you?
His very own nature!
Are you not ashamed to cut yourself off from such a noble thing
through the guilt of deadly sin?
O eternal Trinity, my sweet love!
You, light, give us light.
You, wisdom, give us wisdom.
You, supreme strength, strengthen us.
Today, eternal God,
let our cloud be dissipated
so that we may perfectly know and follow your Truth in truth,
with a free and simple heart.
God, come to our assistance!
Lord, make haste to help us!
Amen.
Prayer of St. Catherine of Siena
Lastly, we continue to look to St. Joseph, whom Jesus and Mary want us to love and honor especially in these times. Again, in the revelations he gave us about himself, he tells us that Jesus and Mary want us to honor him each month. Their requests are similar to those of the First Friday devotion to the Sacred Heart and Our Lady's First Saturday devotion that was revealed at Fatima.
Now it is being revealed that the Father asks us to offer special love and honor to all three hearts of Jesus, Mary and Joseph in reparation for the sins committed against them and to bring peace to the world:

JESUS AND MARY DESIRE DEVOTION BE GIVEN TO ST. JOSEPH ON THE FIRST WEDNESDAYS OF THE MONTH.
"I am the protector of the Church and the home, as I was the protector of Christ and his Mother while I lived upon earth. Jesus and Mary desire that my pure heart, so long hidden and unknown, be now honored in a special way.
Let my children honor my most pure heart in a special manner on the First Wednesday of the month by reciting the Joyful Mysteries of the Rosary in memory of my life with Jesus and Mary and the love I bore them, the sorrow I suffered with them. Let them receive Holy Communion in union with the love with which I received the Savior for the first time and each time I held Him in my arms.
Those who honor me in this way will be consoled by my presence at their death, and I myself will conduct them safely into the presence of Jesus and Mary."
NOVENA PRAYERS:
The Novena prayers are simple, but they are rooted in the messages Our Lady has reiterated and given to us again and again in all of her apparitions to try to save us.
Let us always strive to live them ever more fully.
They are:
Pray the full Rosary
Read Scripture together as a family each day –
We are taught and learn so much from reading and meditating on the Mass readings of each day. Here are today's readings.
Take time to pray through them and notice which words jump out at you and take some time in prayer with these words to understand more deeply what God is saying to you in these Scriptures:
http://www.usccb.org/bible/readings/042920.cfm
Memorial of Saint Catherine of Siena, virgin and doctor of the Church

Lectionary: 275
There broke out a severe persecution of the Church in Jerusalem,
and all were scattered
throughout the countryside of Judea and Samaria,
except the Apostles.
Devout men buried Stephen and made a loud lament over him.
Saul, meanwhile, was trying to destroy the Church;
entering house after house and dragging out men and women,
he handed them over for imprisonment.
Now those who had been scattered went about preaching the word.
Thus Philip went down to the city of Samaria
and proclaimed the Christ to them.
With one accord, the crowds paid attention to what was said by Philip
when they heard it and saw the signs he was doing.
For unclean spirits, crying out in a loud voice,
came out of many possessed people,
and many paralyzed and crippled people were cured.
There was great joy in that city.
R. (1) Let all the earth cry out to God with joy.
or:
R. Alleluia.
Shout joyfully to God, all the earth,
sing praise to the glory of his name;
proclaim his glorious praise.
Say to God, "How tremendous are your deeds!"
R. Let all the earth cry out to God with joy.
or:
R. Alleluia.
"Let all on earth worship and sing praise to you,
sing praise to your name!"
Come and see the works of God,
his tremendous deeds among the children of Adam.
R. Let all the earth cry out to God with joy.
or:
R. Alleluia.
He has changed the sea into dry land;
through the river they passed on foot;
therefore let us rejoice in him.
He rules by his might forever.
R. Let all the earth cry out to God with joy.
or:
R. Alleluia.
R. Alleluia, alleluia.
Everyone who believes in the Son has eternal life,
and I shall raise him up on the last day, says the Lord.
R. Alleluia, alleluia.
Jesus said to the crowds,
"I am the bread of life;
whoever comes to me will never hunger,
and whoever believes in me will never thirst.
But I told you that although you have seen me,
you do not believe.
Everything that the Father gives me will come to me,
and I will not reject anyone who comes to me,
because I came down from heaven not to do my own will
but the will of the one who sent me.
And this is the will of the one who sent me,
that I should not lose anything of what he gave me,
but that I should raise it on the last day.
For this is the will of my Father,
that everyone who sees the Son and believes in him
may have eternal life,
and I shall raise him on the last day."

Make the Eucharist the center of your life
we can still do this interiorly if not physically during this time of quarantine through our Spiritual Communions, and visits to Church to pray in front of the tabernacle if they are open, etc.
Fast twice a week on Wednesdays and Friday on bread and water for Mary has told us in Medjugorje:
"Pray and fast, because with prayer and fasting you can stop wars and natural disasters".
Go to Confession at least monthly (again, if you are unable make frequent heartfelt acts of contrition)…
And each day of this novena, pray especially during the 3 O'clock hour (if possible):
• an act of contrition
(in place of or in addition to confession)
• an act of spiritual communion
(in place of or in addition to going to Mass and receiving communion;
• the Divine Mercy Chaplet
• the Rosary
Besides consecrating ourselves and our loved ones, our nation(s) and leaders, our Church and the world each day – let us also remember to consecrate Russia and China and all those who are perpetrating such great evil upon the world, praying:
Jesus, Mary and Joseph, I love you! Save Souls!
Entrusting all of us into the hearts of Jesus, Mary and Joseph.
Janet Moore 2020. All Rights Reserved.
To see more about the love of St. Catherine for the Blessed Virgin:
"In the name of Jesus Christ crucified and of gentle Mary." With these words, Catherine begins her book, Il Dialogo, as well as all but a few of her three hundred eighty-two letters, indicating the close link that Catherine makes between gentle Mary and her crucified Son. Catherine's birth on March 25 in 1347, a year in which the customary date of the Annunciation coincided with Palm Sunday, might seem to have anticipated the close relationship Catherine would draw between Mary and the Redemption. For Catherine, Mary is not a passive or peripheral figure to the story of salvation but one who is vitally involved in its decisive moments. As has been seen, Catherine, unlike a number of medieval authors, emphasizes the Incarnation as the beginning of the redemption. Thus, she writes:
This Word was engrafted in her flesh, this blessed and sweet field of Mary, as the seed that is cast on the earth. Through the warmth of the sun, it germinates and draws out the flower and the fruit and the shell remains on the earth. So, truly, [it was] through the warmth and the fire of divine charity which God had for the human race, casting the seed of His Word in the field of Mary. O blessed and sweet Mary, you have given us the flower of the sweet Jesus! And when did this blessed flower produce the fruit? When He was grafted on the wood of the most holy cross. Then we received perfect life. [Letter 144]
For St. Catherine, Mary plays no mere passive role in the incarnation of her son. As the Word was given to Mary, so Mary gives the Word to the world in bearing her Son. Mary is united to Christ in his work of salvation, and so is united to us as that same salvation is worked in us. To read the rest of Fr. Wiseman's article, find: "Mary in the Life and Thought of Catherine of Siena" https://opeast.org/2012/05/mary-in-the-life-and-thought-of-st-catherine-of-siena/
To know more about St. Catherine of Siena:
"Today is the Feast of St. Catherine of Sienna. Catherine was born in 1347, the youngest of 25 children. She was very smart and also very beautiful. As a child even then, she loved penance:
when 5 years old, she would climb the stairs on her knees
saying a 'Hail Mary' on each step. One day when she was 6, she was walking along with her brother, when looking at the sky, she suddenly saw Jesus surrounded by light, he was smiling; he blessed her, then vanished. From then on, Catherine's soul was on fire for God.
When still quite young she made a vow to live only for the Lord and never marry. She denied herself many comforts in order to offer these sacrifices to God. She ate mostly boiled vegetables and slept on the ground. Because Catherine was so beautiful and charming, her parents began to make plans for her to marry a respectable man. But she said that she wished to live only for God and be a Sister, but they would not hear of it; her mother said she was too pretty to be a sister! So Catherine prayed that she would be sick and ugly. Eventually however, her parents agreed, and when she was 18 she became a 3rd order Dominican sister.
Jesus once appeared to her and offered her two crowns:
one of gold, the other of thorns. Choose, he said. She took the crown of thorns and pushed it onto her head. She wanted to make sacrifices for Jesus. One day when the Sisters were feeing the poor, there was not enough bread for everyone; Catherine however, just kept handing it out and it multiplied to feed all. Now in those days, the Pope had been living in France, not Rome, because Rome was dangerous. But everyone knew that the Pope should be in Rome; so Catherine wrote numerous letters to the Pope, telling him to return to Rome. She herself, finally went to France and told him, he must return to Rome. The French Bishops tried to tell the Holy Father that Catherine was not so smart and should not be listened to. They called her before them and asked her all kinds of difficult theological questions, which she answered perfectly each time. Even though she never studied, the Holy Spirit gave her the Gift of Knowledge to answer. Catherine was so highly respected in those days, that the Pope DID listen to her and returned to Rome.
She experienced the stigmata, the wounds of Jesus on hands and feet, and she often ate nothing except the Holy Eucharist; There was a period of 85 days straight, when only Holy Communion sustained her. She died at the age of 33, a magnificent light for the Church, in her short life. Pray for us St. Catherine of Sienna!"
Fr. Luke Winkelmann