4th day: We pray for all Leaders in the Church
Please pray for our Holy Father and all Bishops of our Holy Roman Catholic Church.
The Holy Father authorized pilgrimages to Medjugorje May 12, 2019! This authorization confirms that bishops and priests can officially and publicly lead Diocesan and parish pilgrimages. This authorization also confirms the previous comments stating this made by his representative to Medjugorje, Archbishop Hoser in the past year. See some of the Archbishop's profoundly positive comments regarding Medjugorje here:
Pope Francis sent Archbishop
Henryk Hoser to study the spirituality of Medjugorje for several
months in 2017 as his official Papal Envoy. In 2018, the Archbishop was
sent back to live indefinitely in Medjugorje as an
official Papal Visitor of the Holy Father.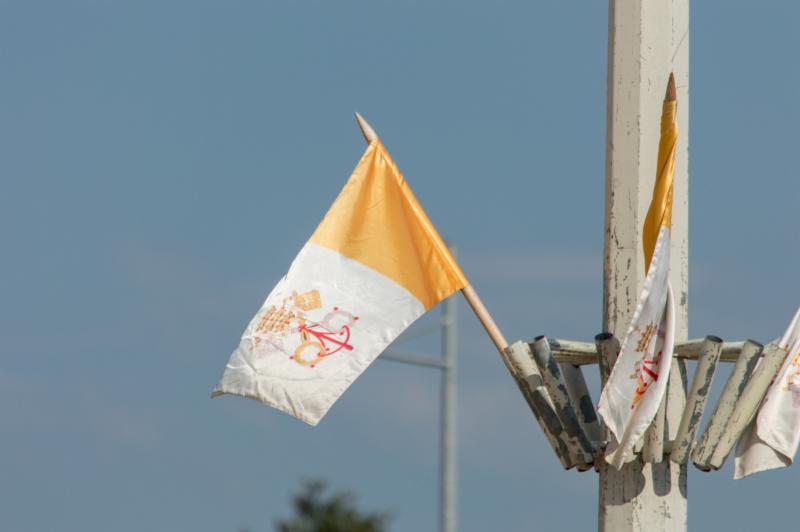 Since the arrival of Archbishop Hoser as the official Papal Visitor,
the Papal Flag now flies outside St. James Church in Medjugorje as of
July 30, 2018
Here are some statements the Archbishop has made regarding Medjugorje:
"Archbishop Henryk Hoser of Poland
determined, after months of observing [Medjugorje] first-hand, that the
message there "can be put at the same level as that delivered in the
French city of Lourdes and the Portuguese city of Fatima" (according to a
report in Crux Now.)
He called Medjugorje — which has two-and-a-half million visitors a
year, despite previous vehement opposition to it — "the spiritual lungs
of Europe."

One must take this all in:
Medjugorje has not just a pastor overseeing it, not just a shrine
rector, but now its own archbishop, which may be without precedent in
major apparitions — replacing the authority of an antagonistic bishop in
the nearby city of Mostar.

"With regard to the international phenomenology, they are very similar," Archbishop Hose said, according to the website Total Croatia,
in comparing it to Lourdes and Fatima.
"These are certainly the three
greatest pilgrimage sites. The power of grace that is felt here, the
power of God's words here proclaimed, make us witness to many radical
transformations that are happening here. Medjugorje has become the
confessional of the world."

There is a difference between Archbishop Hoser and many skeptics: he actually went there."


spiritdailyblog.com/news/a-new-trend-in-apparitions
1.
"Devotion of Medjugorje is allowed. It's not
prohibited, and need not be done in secret."
2.
Medjugorje is a "phenomenon", a "movement
[that] will not stop and should not be stopped", saying it is "one of the most living places of prayer and
conversion in Europe – with a healthy spirituality.
"
3.
"…All
indications are that the revelations will be recognized… Specifically, I
think it is possible to recognize the authenticity of the first apparitions as
proposed by the cardinal commission. Ruini. Besides, it is difficult to get
another verdict, because it is difficult to believe that six seers will lie for
36 years. What they say is consistent. There are no people haunted or mentally
disturbed. The powerful argument for the authenticity of the apparitions is
Faithfulness to the doctrine of the Church.
 If the revelations, and at least
the first seven, will be recognized, this will be a tremendous stimulus for
Medjugorje."

4.
"Today, dioceses and other institutions can
organize official pilgrimages."
"[A diocesan trip to Medjugorje would be] a pilgrimage of spiritual
transformation, conversion and consolidation of faith – because all these
elements are realized there."
5.
"There
is a massive number of confessions. They have about 50 confessionals, which are
not enough. These are very deep confessions."
1. Prayer to the Queen of Peace
Mary, Mother of God and Our Mother, Queen of Peace!
You came to us to lead us to God.
Obtain for us the grace not only to say:
"Be it done to me according to Your will!", but to live it, as You did.
Into
Your hands we put our hands, so that You may lead us to Him amidst
these afflictions and woes. Through Christ, our Lord. Amen.
Experience adoration and
the singing of Veni Sancte Spiritus
in Medjugorje
Come Holy Spirit, Creator, come
best gift of God above,
the living spring, the living fire,
sweet unction and true love.
Thou Who are called the Paraclete,

from Thy bright heavenly throne,

come, take possession of our souls,

and make them all Thine own.
Thou who are sevenfold in Thy grace,

finger of God's right hand,

His promise, teaching little ones

to speak and understand.
O guide our minds with Thy blest light,

with love our hearts inflame;

and with Thy strength, which never decays,

confirm our mortal frame.

3. Glorious Mysteries of the Rosary
This
first video is a slide slow of music and images of the entire mysteries
of the Rosary found in Medjugorje. There are no words.
Jesus said to his disciples: "I am the light of the world. Whoever
follows me will not walk in darkness, but will have the light of life."
(Jn 8,12)


MESSAGE FROM HEAVEN
"Dear Children! Today I am happy to see you in such great numbers, that
you have responded and have come to live my messages. I invite you,
little children, to be my joyful carriers of peace in this troubled
world. Pray for peace so that as soon as possible a time of peace, which
my heart waits impatiently for, may reign. I am near to you, little
children, and intercede for every one of you before the Most High. I
bless you with my motherly blessing. Thank you for having responded to
my call." (Message, June 25, 1995)


CATECHISM OF THE CATHOLIC CHURCH
The heart is the dwelling-place where I am, where I live; according to
the Semitic or Biblical expression, the heart is the place "to which I
withdraw." The heart is our hidden centre, beyond the grasp of our
reason and of others; only the Spirit of God can fathom the human heart
and know it fully. The heart is the place of decision, deeper than our
psychic drives. It is the place of truth, where we choose life or death.
It is the place of encounter, because as image of God we live in
relation: it is the place of covenant. (2563)
4. The Litany of the Blessed Virgin
Thank You, O Lord, for giving us the Church as Mother and Spouse, to
lead us in our earthly life on a path of light towards You. Thank You,
because in the Church we are all brothers and sisters, and members of
one Mystical Body. Today we pray for those who lead the Church: may they
unceasingly renew within themselves their covenant with You, the One
and Only True Head, so as to become faithful and joyful carriers of
peace and truth in this troubled world. Amen.
The Medjugorje Hymn
To the Mother and Queen of Peace
Click Here for .mp3 –

We come to you, dearest Mother,

from all quarters, from all nations;

bringing to you all our troubles

ardent wishes, aspirations.
Look upon us and console us,

lay your gentle hands upon us;

intercede with Jesus for us,

Mother of Peace, do pray for us.
All the faithful look up to you,

you the lodestar of salvation;

cleanse, embrace us, we pray to you,

bless all in the congregation.
Bijakovo, Medjugorje,

little hamlets spread the story,

bearing witness to your beauty

to your name and to your glory.
For all your love, dearest Mother

all the wonders that we have seen,

we give to you solemn promise

to be better than we have been.
Complete Novena found here:
http://medjugorje.org/anniversarynovena.htm
I have written several articles about the importance of Archbishop Hoser's presence in Medjugorje.
You can read more at these links:
https://priestlyconsecration.com/2019/03/what-are-we-to-believe-about-medjugorje.html
https://priestlyconsecration.com/2018/08/do-papal-envoys-words-mean-vatican.html
https://priestlyconsecration.com/2018/08/what-is-holy-fathers-mission-in.html
https://priestlyconsecration.com/2018/08/popes-representative-officiating-at.html
https://priestlyconsecration.com/2018/08/installment-of-apostolic-visitor-in.html
© Updated 2020. Janet Moore 2019. All Rights Reserved.