"I am all yours, and all that I have is yours, O most loving Jesus, through Mary, your most holy Mother"
(True Devotion, 233).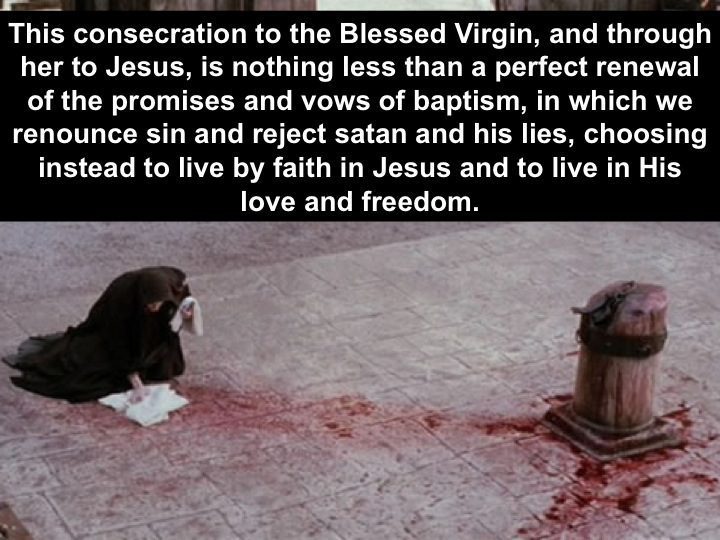 DAY 20 of 33:
SECTION 3: Entering
into the Mystery of Jesus' Scourging
Contemplating the Sorrowful Mysteries with Mary, St.
Maximilian Kolbe, St. Mother Teresa and St. Louis de Montfort as our guides.
Action:
1. Resolve to pray a complete set of mysteries of the Rosary every day – as an
act of love to God and in fulfillment of Mary's requests to us. 
So, therefore,
PRAY the Joyful mysteries of the Rosary today and every day – see day 8 for instructions/ guidance on how
to fit this into your day.
2. Skim through the accompanying pictures and the extraordinary wisdom of St.
Louis de Montfort and St. Mother Teresa and read through as much (below) as possible. 

3.
Continue to choose to enter more deeply into the daily prayer program (below)
at least in this way: 

Ponder
and pray The Nicene Creed today and the accompanying Scripture texts as you
meditate and PRAY THE JOYFUL MYSTERIES
AND ALL THE LUMINOUS MYSTERIES OF THE ROSARY
– while praying for the grace to
listen, to hear and respond to God as Mary does.

And to pray for the grace to surrender whatever is keeping us from responding
fully to God – in and through and with Mary's love and help.

4.
Begin to take steps to make the Mass the center of your life.
5. Pray the 2nd Sorrowful Mystery of the Rosary: The Scourging at the Pillar
When we contemplate Jesus in His Scourging, let us ask ourselves:
What is our response to evil, hurt and
suffering?
How do we respond to sickness and death, to the loss of our livelihood?
To violence, to evil, to sin in our world and in our Church?
Do I reject God and mistrust God when I see or experience suffering?
Or do I embrace and trust Him more fully?
May
the great lengths that He went to in His Scourging bring us to ever
greater faith and hope in Him, Who will never leave us or forsake us in the midst of our own sufferings and injustices.
May
accepting His LOVE and MERCY give us supernatural faith and courage and
a Divine, heavenly perspective to not only embrace Him, but to choose
to suffer with Him – so to rise with Him.
May
we choose to, with and in Mary's heart and mind and will, see the
goodness and the glory that God brings out of suffering and to recognize
that when we are united to Jesus our Cross becomes easy and our burden
light and that through us, too, countless souls may be saved."For What Is Seen Is
Transitory;
What Is Unseen Is Eternal." 2 Corinthians 4:14
-5:1
So that we, too, can say with Habakkuk:
"Though

the fig

tree

should not blossom

And there

be no

fruit

on the vines,

Though the yield

of the olive

should fail

And the fields

produce

no

food,

Though the flock

should be cut

off

from the fold

And there

be no

cattle

in the stalls,

Yet I will exult in the LORD, I will
rejoice in the God of my salvation."

Habakkuk 3:17
JESUS is the Eternal God of the Universe, the Second Person of the Holy
Trinity, the God from God, the One Who Created All things out of nothing
and sustains them all in being, He is the Light shining in the Darkness
and the innocent Babe completely dependent upon Mary in her womb.
It is this Jesus, Who allowed His flesh to be torn to pieces and to fall
from His Body in atonement for our sins.
O, the depth and height of His LOVE and GOODNESS and MERCY!
O, how deeply Jesus loves us! Mary witnessed this Love that became so
concrete that she wiped the floor of His Blood so not one drop would be
discarded or trampled upon.
With the heart of His Mother and through her prayers, may we be moved to
repent and believe and to accept His love and mercy this day.
May not a drop of His Blood be shed in vain for us!
May
the extent of His LOVE move us to love and abandon ourselves to Him in
return. May we respond to Him as He
asks – to Behold His Mother as our own and give ourselves completely to Him through her.
May it so be done in us. Amen.
Let us begin by praying the
Nicene Creed – with all of these mysteries in mind:
I believe in one God,
the Father almighty,
maker of heaven and earth,
of all things visible and invisible.
I believe in one Lord Jesus Christ,
the Only Begotten Son of God,
born of the Father before all ages.
God from God, Light from Light,
true God from true God,
begotten, not made, consubstantial with the Father;
through him all things were made.
For us men and for our salvation
he came down from heaven,
and by the Holy Spirit was incarnate of the Virgin Mary,
and became man.
For our sake he was crucified under Pontius Pilate,
he suffered death and was buried,
and rose again on the third day
in accordance with the Scriptures.
He ascended into heaven
and is seated at the right hand of the Father.
He will come again in glory
to judge the living and the dead
and his kingdom will have no end.
I believe in the Holy Spirit, the Lord, the giver of life,
who proceeds from the Father and the Son,
who with the Father and the Son is adored and glorified,
who has spoken through the prophets.
I believe in one, holy, catholic and apostolic Church.
I confess one Baptism for the forgiveness of sins
and I look forward to the resurrection of the dead
and the life of the world to come. Amen.
Daily Prayer Program for these 33 Days:
It
is important to make a commitment to strive to pray more deeply, more
intensely and with more of your heart during these days of preparation.
Here are some guidelines and suggestions for how to live these days.
Pray about how you can grow in each of these areas listed below and
while living out this prayer program it is especially important to
Trust in the Truth and Supernatural Reality of God's Presence within each of them
• LIVE Grace and Renew our Baptism – renounce sin and Satan
• Mass and the Eucharist the Center of our lives
2. Scripture – Pray and Internalize it daily

• To Jelena: "I'm going to reveal a spiritual secret to you:
if you want to be stronger than evil, make yourself a plan of personal
prayer. Take a certain time in the morning, read a text from Holy
Scripture, anchor the Divine word in your heart, and strive to live it
during the day, particularly during the moment of trials. In this way,
you will be stronger than evil." (Our Lady of Medjugorje, April 19,
1984)
• Rosary – With and in Mary, contemplating Scripture and the mysteries of God
3. Fill mind with wisdom of Mary and the Saints
• God is sending Mary to earth for she is the Crusher of Satan. Listen to her words.
• St. John Paul II – example of life given over – Totus Tuus
• St. Maximilian Kolbe – Militia Immaculata every soul consecrated to Mary will save the world

• St. Louis de Montfort – Mary will form the greatest saints
who ever lived – easiest shortest most sure way to sanctity
• St. Mother Teresa and many more
PART 2: Day 20 Readings and Prayers for St. Louis de Montfort's 33 Day of Consecration to Jesus through Mary – An Online Guide

Readings and Prayers for St. Louis-Marie de Montfort's

Total Consecration to Jesus through Mary
SECOND WEEK
THEME FOR THE WEEK: KNOWLEDGE OF THE BLESSED VIRGIN
Acts of love, pious affection for the Blessed Virgin, imitation of her virtues, especially her profound humility, her
lively faith, her blind obedience, her continual mental prayer, her mortification in all things, her surpassing purity,
her ardent charity, her heroic patience, her angelic sweetness, and her divine wisdom: "there being," as St. Louis
De Montfort says, "the ten principal virtues of the Blessed Virgin."

We must unite ourselves to Jesus through Mary – this is the characteristic of our devotion; therefore, Saint Louis
De Montfort asks that we employ ourselves in acquiring a knowledge of the Blessed Virgin.

Mary is our sovereign and our mediatrix, our Mother and our Mistress. Let us then endeavor to know the effects of
this royalty, of this mediation, and of this maternity, as well as the grandeurs and prerogatives which are the
foundation or consequences thereof. Our Mother is also a perfect mold wherein we are to be molded in order to
make her intentions and dispositions ours. This we cannot achieve without studying the interior life of Mary;
namely, her virtues, her sentiments, her actions, her participation in the mysteries of Christ and her union with
Him.
Day 20 of 33:
Meditate on Scripture:
Luke 2:16-21, 45-52

And they came with haste; and they found Mary and Joseph, and the infant lying in the manger. And seeing, they

understood of the word that had been spoken to them concerning this child. And all that heard, wondered; and at
those things that were told them by the shepherds. But Mary kept all these words, pondering them in her heart.
And the shepherds returned, glorifying and praising God, for all the things they had heard and seen, as it was told
unto them. And after eight days were accomplished, that the child should be circumcised, his name was called
JESUS, which was called by the angel, before he was conceived in the womb…

…And not finding him, they returned into Jerusalem, seeking him. And it came to pass, that, after three days, they
found him in the temple, sitting in the midst of the doctors, hearing them, and asking them questions. And all that
heard him were astonished at his wisdom and his answers. And seeing him, they wondered. And his mother said
to him: Son, why hast thou done so to us? behold thy father and I have sought thee sorrowing. And he said to
them: How is it that you sought me? did you not know, that I must be about my father's business? And they
understood not the word that he spoke unto them. And he went down with them, and came to Nazareth, and was
subject to them. And his mother kept all these words in her heart. And Jesus advanced in wisdom, and age, and
grace with God and men.
Lord, have mercy on us. 
Christ, have mercy on us. 
Lord, have mercy on us. 
 
Father all powerful, have mercy on us 
Jesus, Eternal Son of the Father, Redeemer of the world, save us. 
Spirit of the Father and the Son, boundless life of both, sanctify us. 
Holy Trinity, hear us 
 
Holy Ghost, Who proceedest from the Father and the Son, enter our hearts. 
Holy Ghost, Who art equal to the Father and the Son, enter our hearts. 
 
Promise of God the Father, have mercy on us. 
Ray of heavenly light, have mercy on us 
Author of all good, have mercy on us 
Source of heavenly water, have mercy on us 
Consuming fire, have mercy on us 
Ardent charity, have mercy on us 
Spiritual unction, have mercy on us 
Spirit of love and truth, have mercy on us 
Spirit of wisdom and understanding, have mercy on us 
Spirit of counsel and fortitude, have mercy on us 
Spirit of knowledge and piety, have mercy on us 
Spirit of the fear of the Lord, have mercy on us 
Spirit of grace and prayer, have mercy on us 
Spirit of peace and meekness, have mercy on us 
Spirit of modesty and innocence, have mercy on us 
Holy Ghost, the Comforter, have mercy on us 
Holy Ghost, the Sanctifier, have mercy on us 
Holy Ghost, Who governest the Church, have mercy on us 
Gift of God, the Most High, have mercy on us 
Spirit Who fillest the universe, have mercy on us 
Spirit of the adoption of the children of God, have mercy on us 
 
Holy Ghost, inspire us with horror of sin. 
Holy Ghost, come and renew the face of the earth. 
Holy Ghost, shed Thy light in our souls. 
Holy Ghost, engrave Thy law in our hearts 
Holy Ghost, inflame us with the flame of Thy love. 
Holy Ghost, open to us the treasures of Thy graces 
Holy Ghost, teach us to pray well. 
Holy Ghost, enlighten us with Thy heavenly inspirations. 
Holy Ghost, lead us in the way of salvation 
Holy Ghost, grant us the only necessary knowledge. 
Holy Ghost, inspire in us the practice of good. 
Holy Ghost, grant us the merits of all virtues. 
Holy Ghost, make us persevere in justice. 
Holy Ghost, be Thou our everlasting reward. 
 
Lamb of God, Who takest away the sins of the world, Send us Thy Holy Ghost. 
Lamb of God, Who takest away the sins of the world, pour down into our 
souls the gifts of the Holy Ghost. 
Lamb of God, Who takest away the sins of the world, grant us the Spirit of 
wisdom and piety. 
 
V. Come, Holy Ghost! Fill the hearts of Thy faithful, 
R. And enkindle in them the fire of Thy love. 
 
Let Us Pray 
Grant, O merciful Father, that Thy Divine Spirit may enlighten, inflame and purify us, that He may penetrate us with His heavenly dew and make us fruitful in good works, through Our Lord Jesus Christ, Thy Son, Who with Thee, in the unity of the same Spirit, liveth and reigneth forever and 
ever. R. Amen. 
Hail, bright star of ocean,
God's own Mother blest,
Ever sinless Virgin,
Gate of heavenly rest.
Taking that sweet Ave
Which from Gabriel came,
Peace confirm within us,
Changing Eva's name.
Break the captives' fetters,
Light on blindness pour,
All our ills expelling,
Every bliss implore.
Show thyself a Mother;
May the Word Divine,
Born for us thy Infant,
Hear our prayers through thine.
Virgin all excelling,
Mildest of the mild,
Freed from guilt, preserve us,
Pure and undefiled.
Keep our life all spotless,
Make our way secure,
Till we find in Jesus
Joy forevermore.
Through the highest heaven
To the Almighty Three,
Father, Son and Spirit,
One same glory be. Amen.
Litany of the Blessed Virgin Mary
Lord, have mercy on us.
Christ, have mercy on us.
Lord, have mercy on us.
Christ, hear us.
Christ, graciously hear us.
God the Father of Heaven,
Have mercy on us.
God the Son, Redeemer of the world,
Have mercy on us.
God the Holy Ghost,
Have mercy on us.
Holy Trinity, one God,
Have mercy on us.
Holy Mary,
pray for us.
Holy Mother of God,
pray for us.
Holy Virgin of virgins,
pray for us.
Mother of Christ,
pray for us.
Mother of divine grace,
pray for us.
Mother most pure,
pray for us.
Mother most chaste,
pray for us.
Mother inviolate,
pray for us.
Mother undefiled,
pray for us.
Mother most amiable,
pray for us.
Mother most admirable,
pray for us.
Mother of good counsel,
pray for us.
Mother of our Creator,
pray for us.
Mother of our Savior,
pray for us.
Virgin most prudent,
pray for us.
Virgin most venerable,
pray for us.
Virgin most renowned,
pray for us.
Virgin most powerful,
pray for us.
Virgin most merciful,
pray for us.
Virgin most faithful,
pray for us.
Mirror of justice,
pray for us.
Seat of wisdom,
pray for us.
Cause of our joy,
pray for us.
Spiritual vessel,
pray for us.
Vessel of honor,
pray for us.
Singular vessel of devotion,
pray for us.
Mystical rose,
pray for us.
Tower of David,
pray for us.
Tower of ivory,
pray for us.
House of gold,
pray for us.
Ark of the Covenant,
pray for us.
Gate of Heaven,
pray for us.
Morning star,
pray for us.
Health of the sick,
pray for us.
Refuge of sinners,
pray for us.
Comforter of the afflicted,
pray for us.
Help of Christians,
pray for us.
Queen of angels,
pray for us.
Queen of patriarchs,
pray for us.
Queen of prophets,
pray for us.
Queen of apostles,
pray for us.
Queen of martyrs,
pray for us.
Queen of confessors,
pray for us.
Queen of virgins,
pray for us.
Queen of all saints,
pray for us.
Queen conceived without Original Sin,
pray for us.
Queen assumed into Heaven,
pray for us.
Queen of the most holy Rosary,
pray for us.
Queen of peace,
pray for us.

Lamb of God, who takes away the sins of the world,
Spare us, O Lord.
Lamb of God, who takes away the sins of the world,
Graciously hear us, O Lord.
Lamb of God, who takes away the sins of the world,
Have mercy on us.

Pray for us, O Holy Mother of God,
That we may be made worthy of the promises of Christ.
Grant, we beseech Thee, O Lord God, that we Thy Servants may enjoy perpetual health of mind and body and by the glorious intercession of the Blessed Mary, ever Virgin, be delivered from present sorrow and enjoy eternal happiness. Through Christ Our Lord. Amen.
St. Louis' Prayer to Mary
Hail
Mary, beloved Daughter of the Eternal Father! Hail Mary, admirable
Mother of the Son! Hail Mary, faithful spouse of the Holy Ghost! Hail
Mary, my dear Mother, my loving Mistress, my powerful sovereign! Hail my
joy, my glory, my heart and my soul! Thou art all mine by mercy, and I
am all thine by justice. But I am not yet sufficiently thine. I now give
myself wholly to thee without keeping anything back for myself or
others. If thou still seest in me anything which does not belong to
thee, I beseech thee to take it and to make thyself the absolute
Mistress of all that is mine. Destroy in me all that may be displeasing
to God, root it up and bring it to nought; place and cultivate in me
everything that is pleasing to thee.
May the light of thy
faith
dispel the darkness of my mind; may thy profound
humility
take the place of my pride; may thy sublime
contemplation
check the distractions of my wandering imagination; may thy continuous sight of
God
fill my
memory
with
His presence; may the burning love of thy heart inflame the
lukewarmness of mine; may thy virtues take the place of my sins; may thy
merits be my only adornment in the sight of
God
and make up for all that is wanting in me. Finally, dearly beloved Mother, grant, if it be possible, that I may have no other
spirit
but thine to know
Jesus
and His divine will; that I may have no other
soul
but thine to praise and glorify the Lord; that I may have no other heart but thine to love
God
with
a love as pure and ardent as thine I do not ask thee for visions,
revelations, sensible devotion or spiritual pleasures. It is thy
privilege
to see
God
clearly; it is thy
privilege
to enjoy heavenly bliss; it is thy
privilege
to triumph gloriously in
Heaven
at the
right
hand of thy Son and to hold absolute sway over angels, men and demons; it is thy
privilege
to dispose of all the
gifts
of God, just as thou willest.
Such is, O heavenly Mary, the "best part," which the
Lord
has
given thee and which shall never be taken away from thee–and this
thought fills my heart with joy. As for my part here below, I wish for
no other than that which was thine: to believe sincerely without
spiritual pleasures; to suffer joyfully without human consolation; to
die continually to myself without respite; and to work zealously and
unselfishly for thee until death as the humblest of thy servants. The
only
grace
I beg thee to obtain for me is that every day and every moment of my
life
I
may say: Amen, So be it–to all that thou didst do while on earth;
Amen, so be it–to all that thou art now doing in Heaven; Amen, so be
it–to all that thou art doing in my soul, so that thou alone mayest
fully glorify
Jesus
in me for
time
and eternity. Amen.
Read:
St. Louis de Montfort's True Devotion to Mary paragraphs 162-170.
162.
Cardinal
de Bérulle, whose memory is venerated throughout France, was
outstandingly zealous in furthering the devotion in France, despite the
calumnies and persecutions he suffered at the hands of critics and evil
men. They accused him of introducing novelty and superstition. They
composed and published a libelous tract against him and they – rather
the devil in them – used a thousand stratagems to prevent him from
spreading the devotion in France. But this eminent and saintly man
responded to their calumnies with calm patience. He wrote a little book
in reply and forcefully refuted the objections contained in it. He
pointed out that this devotion is founded on the example given by Jesus
Christ, on the obligations we have towards him and on the promises we
made in holy baptism. It was mainly this last reason which silenced his
enemies. He made clear to them that this consecration to the Blessed
Virgin, and through her to Jesus, is nothing less than a perfect renewal
of the promises and vows of baptism. He said many beautiful things
concerning this devotion which can be read in his works.
163.
In
Fr. Boudon's book we read of different popes who gave their approval to
this devotion, the theologians who examined it, the hostility it
encountered and overcame, the thousands who made it their own without
censure from any pope. Indeed it could not be condemned without
overthrowing the foundations of Christianity. It is obvious then that
this devotion is not new. If it is not commonly practised, the reason is
that it is too sublime to be appreciated and undertaken by everyone.
164. (2)
This devotion is a safe means of going to Jesus Christ, because it is
Mary's role to lead us safely to her Son; just as it is the role of our
Lord to lead us to the eternal Father. Those who are spiritually- minded
should not fall into the error of thinking that Mary hinders our union
with God. How could this possibly happen? How could Mary, who found
grace with God for everyone in general and each one in particular,
prevent a soul from obtaining the supreme grace of union with him? Is it
possible that she who was so completely filled with grace to
overflowing, so united to Christ and transformed in God that it became
necessary for him to be made flesh in her, should prevent a soul from
being perfectly united to him?
It
is quite true that the example of other people, no matter how holy, can
sometimes impair union with God, but not so our Blessed Lady, as I have
said and shall never weary of repeating. One reason why so few souls
come to the fullness of the age of Jesus is that Mary who is still as
much as ever his Mother and the fruitful spouse of the Holy Spirit is
not formed well enough in their hearts. If we desire a ripe and
perfectly formed fruit, we must possess the tree that bears it. If we
desire the fruit of life, Jesus Christ, we must possess the tree of life
which is Mary. If we desire to have the Holy Spirit working within us,
we must possess his faithful and inseparable spouse, Mary the
divinely-favoured one whom, as I have said elsewhere, he can make
fruitful.
165.
Rest
assured that the more you turn to Mary in your prayers, meditations,
actions and sufferings, seeing her if not perhaps clearly and
distinctly, at least in a general and indistinct way, the more surely
you will discover Jesus. For he is always greater, more powerful, more
active, and more mysterious when acting through Mary than he is in any
other creature in the universe, or even in heaven. Thus Mary, so
divinely- favoured and so lost in God, is far from being an obstacle to
good people who are striving for union with him. There has never been
and there never will be a creature so ready to help us in achieving that
union more effectively, for she will dispense to us all the graces to
attain that end. As a saint once remarked, "Only Mary knows how to fill
our minds with the thought of God." Moreover, Mary will safeguard us
against the deception and cunning of the evil one.
166.
Where
Mary is present, the evil one is absent. One of the unmistakable signs
that a person is led by the Spirit of God is the devotion he has to
Mary, and his habit of thinking and speaking of her. This is the opinion
of a saint, who goes on to say that just as breathing is a proof that
the body is not dead, so the habitual thought of Mary and loving
converse with her is a proof that the soul is not spiritually dead in
sin.
167.
Since
Mary alone has crushed all heresies, as we are told by the Church under
the guidance of the Holy Spirit (Office of B.V.M.), a devoted servant
of hers will never fall into formal heresy or error, though critics may
contest this. He may very well err materially, mistaking lies for truth
or an evil spirit for a good one, but he will be less likely to do this
than others. Sooner or later he will discover his error and will not go
on stubbornly believing and maintaining what he mistakenly thought was
the truth.
168.
Whoever
then wishes to advance along the road to holiness and be sure of
encountering the true Christ, without fear of the illusions which
afflict many devout people, should take up with valiant heart and
willing spirit this devotion to Mary which perhaps he had not previously
heard about. Even if it is new to him, let him enter upon this
excellent way which I am now revealing to him. "I will show you a more
excellent way."
It
was opened up by Jesus Christ, the Incarnate Wisdom. He is our one and
only Head, and we, his members, cannot go wrong in following him. It is a
smooth way made easy by the fullness of grace, the unction of the Holy
Spirit. In our progress along this road, we do not weaken or turn back.
It is a quick way and leads us to Jesus in a short time. It is a perfect
way without mud or dust or any vileness of sin. Finally, it is a
reliable way, for it is direct and sure, having no turnings to right or
left but leading us straight to Jesus and to life eternal.
Let us then take this road and travel along it night and day until we arrive at the fullness of the age of Jesus Christ.
6. It gives great liberty of spirit

169.
It gives great liberty of spirit – the freedom of the children of God – to those who faithfully practise
it. Through this devotion we make ourselves slaves of Jesus by consecrating ourselves entirely to him. To
reward us for this enslavement of love, our Lord frees us from every scruple and servile fear which might
restrict, imprison or confuse us; he opens our hearts and fills them with holy confidence in God, helping us
to regard God as our Father; he inspires us with a generous and filial love.

170.
Without stopping to prove this truth, I shall simply relate an incident which I read in the life of
Mother Agnes of Jesus, a Dominican nun of the convent of Langeac in Auvergne, who died a holy death
there in 1634.

When she was only seven years old and was suffering great spiritual anguish, she heard a voice
telling her that if she wished to be delivered from her anguish and protected against all her enemies, she
should make herself the slave of our Lord and his Blessed Mother as soon as possible. No sooner had she
returned home than she gave herself completely to Jesus and Mary as their slave, although she had never
known anything about this devotion before. She found an iron chain, put it round her waist and wore it till
the day she died. After this, all her sufferings and scruples disappeared and she found great peace of soul.

This led her to teach this devotion to many others who made rapid progress in it – among them,
Father Olier, the founder of the Seminary of Saint-Sulpice, and several other priests and students from the
same seminary. One day the Blessed Virgin appeared to Mother Agnes and put a gold chain around her neck
to show her how happy she was that Mother Agnes had become the slave of both her and her Son. And St.
Cecilia, who accompanied our Lady, said to her, "Happy are the faithful slaves of the Queen of heaven, for
they will enjoy true freedom." Tibi servire libertas.
PART 3: "Come, Holy Spirit, living in Mary
. Help me ardently make a covenant of Consecration with Mary"
© Janet Moore 2019. All Rights Reserved.