On this Good Friday…
1. Please take a moment to watch this amazing video by Father Robert Barron.
2. Pray the short prayer my grandmother taught me (33x before 3pm — or sometime before the day is over)
O my Jesus, my thy sorrowful passion and most bitter death, and that of thy sorrowful Mother, assist us in our most urgent necessity __________________Name need(s) here.
(Some of the things I prayed for: the conversion of all hearts, for all to come to know the love of God, for the conversion of all extremists, all terrorists, for those being persecuted and martyred, for all families and marriages, for those at the point of death today, for all the sick and suffering ones, all that I've promised to pray for, those who are most in need of God's mercy, for the end to all abortions, for those in China who are forced to have abortions…. etc.).
3. Begin praying the powerful Divine Mercy Chaplet Novena which Jesus gave to St. Faustina. Bookmark this site to read further and to listen to Fr. Gaitley's talk on Divine Mercy at some other time (maybe tomorrow).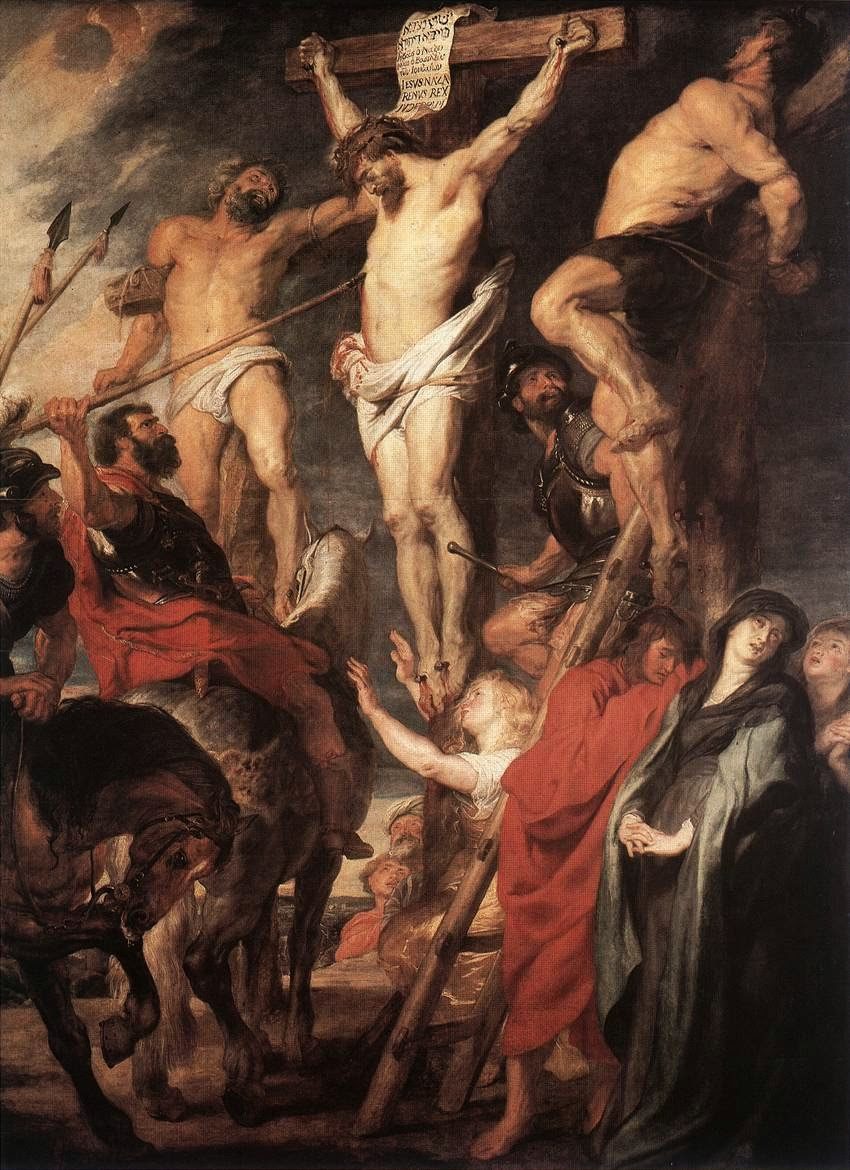 Peter Paul Rubens Crucifixion
4. Pray the Sorrowful Mysteries of the Rosary. There is a grassroots effort to get everyone in America to unite in praying the Rosary today, remembering the miraculous power of our prayers against evil. Evidenced in the great miracle of Christian Europe against extremist Muslim forces set to destroy it. Pope Pius V called for all of Europe to unite together to fight them and to pray the rosary. The end result was that the Christian forces demolished the overwhelmingly superior Muslim fleet at the Battle of Lepanto on Oct 7, 1571. Pope Pius V attributed this great victory to the power of rosary, and the Church has since always celebrated the Feast of the Holy Rosary on Oct. 7th every year.
5. Use Scripture to enter more deeply into today's mysteries. Either while praying the Rosary or at another time, actually read and meditate on one of the passion narratives of the four Gospels: Matthew 27, Mark 15, Luke 23 or John 19. Or read Passion Psalm 22.
6. Make the Stations of the Cross. Click here for meditations by Mother Angelica.
7. Attend Good Friday Services, hear the Passion, venerate and kiss the Cross of our Savior with your Church community, and receive Holy Communion. Click on Masstimes.org for a location near you.
8. Paint Easter Eggs, the symbol of new life.
9. Plant New Life –flowers, etc. When we plant something, it symbolizes the power of Jesus' death and resurrection, Who brings all things to life for those who believe.
10. Sing O Sacred Heart Surrounded:
O SACRED HEAD SURROUNDED – Translated by Henry Baker (Public Domain)

1. O Sacred Head surrounded
By crown of piercing thorn!
O bleeding Head so wounded,
Reviled and put to scorn!
Death's pallid hue comes o'er Thee,
The glow of life decays,
Yet angel hosts adore Thee,
And tremble as they gaze.

2. I see Thy strength and vigor
All fading in the strife,
And death with cruel rigor,
Bereaving Thee of life:
O agony and dying!
O love to sinners free!
Jesus, all grace supplying,
O turn Thy face on me.

3. In this, Thy bitter passion,
Good shepherd, think of me,
With Thy most sweet compassion,
Unworthy though I be:
Beneath Thy cross abiding,
Forever would I rest;
In Thy dear love confiding,
And with Thy presence blest.

4. But death too is my ending;
In that dread hour of need,
My friendless cause befriending,
Lord, to my rescue speed:
Thyself, O Jesus, trace me,
Right passage to the grave,
And from Thy cross embrace me,
With arms outstretched to save.


God bless you this Good Friday and always!


© Janet Moore 2015. All Rights Reserved.